On 10th May, I tuned in to watch Google's much-anticipated Google I/O 2023 event, which promised a lot. There was plenty on the agenda around Bard, AI and new Google products, but with all the recent hype around Google's new AI search engine, the main focus for me was how search is changing and what this might mean for SEO and ads.
Around 45 minutes in, Sundar Pichai welcomed Cathy Edwards onto the stage, Google's VP of engineering, to talk about the future of Google search. Search had been placed pretty high up the agenda, just after Bard, so clearly, there were some big announcements to come.
Google Search, Infused With AI
Cathy immediately started by showing some live demos of how AI would be integrated into Google Search. It's certainly a big change, not just in the space it takes up but also in the layout and richness of information within the AI-generated snippet.
For the first demo, Cathy searched, "What's better for a family with kids under 3 and a dog, bryce canyon or arches?".
"Although this is a question that you probably wouldn't ask in this way today, you'd break it down into smaller ones, sift through the information, and then piece things together yourself — now, search does the heavy lifting for you." Cathy explained.
The result infused an AI response directly answering the question and provided three links to the right-hand side (below on mobile) to trusted sources for further reading and research.
Switch to expanded view, and you can see where the information from the AI response has been taken from, with the snippet and links to the website appearing in a new type of search result.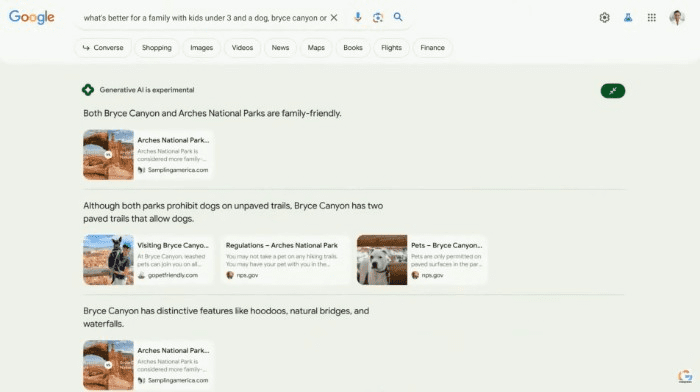 Underneath, you've got the option to drill deeper and go into conversation mode. Here you can ask more questions, find reviews and even build an itinerary for your trip, using Bard as your own personal assistant.
Personally, I think this is a great innovation for search and will help to bring SEO back to the people-focused side of content. It's a clear sign again that simply pumping out AI or human-generated content that doesn't add value won't win you traffic or customers.
It looks like anything that can be generated by AI will be done in the SERP, and the key to getting your brand noticed and in the list of links will be your unique angle, viewpoint and human perspective.
Using Search For Buying
The second example was buying an e-bike. The query was "good bike for a 5-mile commute with hills". This is what came back underneath the Google shopping ads, which stay at the top of the SERP.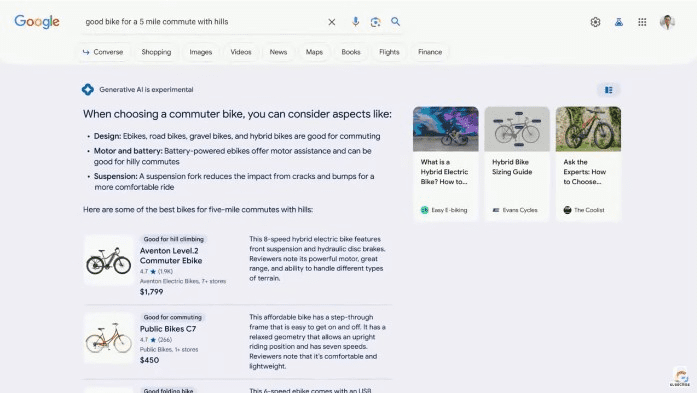 Again, we get a good AI response with links to the right for further research. Next, we get a long list of bikes with plenty of rich information like reviews, images, prices, inventory information and descriptions.
The info is built on Google's Shopping graph, which means having your Google Shopping feed as information rich and as optimised as possible will be even more important.
At this point, Cathy also said that Google is actively exploring new ways of integrating ads into search as they roll out these new experiences. It will be interesting to see where these will sit within the new interface and what the placement opportunities will be for advertisers.
One thing interesting to note from both demos so far is that neither showed Google Search Ads.
Under the shopping ads and AI results, we then get an option to go into conversation mode with follow-up questions or browse the organic results underneath. Again, another SEO opportunity to add a human touch, and more value to the query.
"Why Do Whales Like To Sing?"
The final demo walked through an informational search, "why do whales like to sing?". The AI response took up the full screen on mobile with a great, information-rich reply, a show more button, links to organic results and follow-up question suggestions.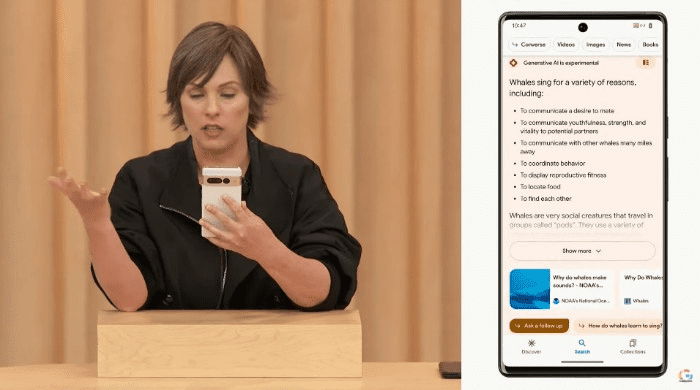 Scroll down further, and you'll see the organic results in a more traditional layout that we're used to seeing. The new format works really well, and the AI does a great job of adapting its response to give you the best information for your search in a dashboard-type page.
Taking their search one step further, Cathy went into converse mode and asked it to find "plush ones for kids under $40". The LLM organised the info from the web and returned a list of products to consider in a useful layout and list.
Key SEO Takeaways
From an SEO perspective, one of the key messages was "People will always value the input of other people" and that publishers, businesses, blogs and people are essential to a "thriving web."
It's clear that AI has a big part to play in the future of search, but it seems like Google won't be losing sight of the importance of people and human connections. They understand that only humans can create content with unique viewpoints and ideas, and it will probably be these types of content that rise through the ranks when you factor in the context and user intent.
A bigger focus on Google's content quality E-E-A-T guidelines (Expertise-Experience-Authority-Trustworthiness) is certainly going to happen as the AI sifts through results trying to find trustworthy and factual content. This means highlighting expertise, and knowledge with regular PR and brand-building campaigns.
Click Through Rates will continue to decline for organic results as AI takes up all of the first page, so competition is about to get even tighter at the top. A knock-on impact will mean that a CRO strategy to convert more visitors from the content you're publishing will be a must.
Similarly, to get the most value from the content that's being produced and published on your website, you need a solid distribution strategy. Sharing content across emails, and socials, as well as creating more video content for YouTube and TikTok, will help you to appear in more feeds and drive more clicks from and away from Google.
A Final Word On Ads
The only ad placements we saw in the Search demos were shopping ads which thrive off high-quality and structured data in the Google Merchant Centre. This should be a signal to marketers that a minimally populated Google Ads feed will no longer be enough.
Adding content to your website, like reviews and inventory information and including that in your feed will likely get you over the first hurdle in competing for a top spot.
Google says that it's actively exploring new ways of integrating ads into search, so we'll have to wait and see what other formats and placements become available.
Overall, the future of search looks healthy and exciting, with plenty of opportunity for brands and businesses to continue improving the way they engage with customers online.
Human-focused website content and information-rich pages are as important as ever, so investing in getting this part of your marketing strategy right will set you in good stead for surviving and thriving in the new AI world.
Watch Cathy's Search presentation at the Google I/O event in the video by CNET below.