Choosing the right channels to market your product or service can be a minefield. There are so many different platforms and strategies to choose from and rules to follow.
While these apparent rules and strategies change regularly, SEO and paid ads are the stalwarts of digital marketing which is why many people feel the need to choose between SEO vs PPC. But that doesn't need to be the case.
Both of these tactics can and should work together to form the foundation of digital marketing campaigns. We always encourage our clients to allocate a budget to both, especially given the positive effect of SEO on PPC results.
To help guide you in the right direction when considering SEO vs PPC, we've teamed up with an award-winning PPC expert Oliver Ewbank who's worked with high-profile brands including eBay, Tesco, Expedia, Feefo, TUI, BGL, 3M, Trevor Sorbie and Papa Johns.
Whether you're going it alone or working with an agency or freelancer, we've combined 30+ years of SEO, content marketing and paid search knowledge to deliver a thorough SEO vs PPC comparison so you've got the knowledge to make the best decision for your business.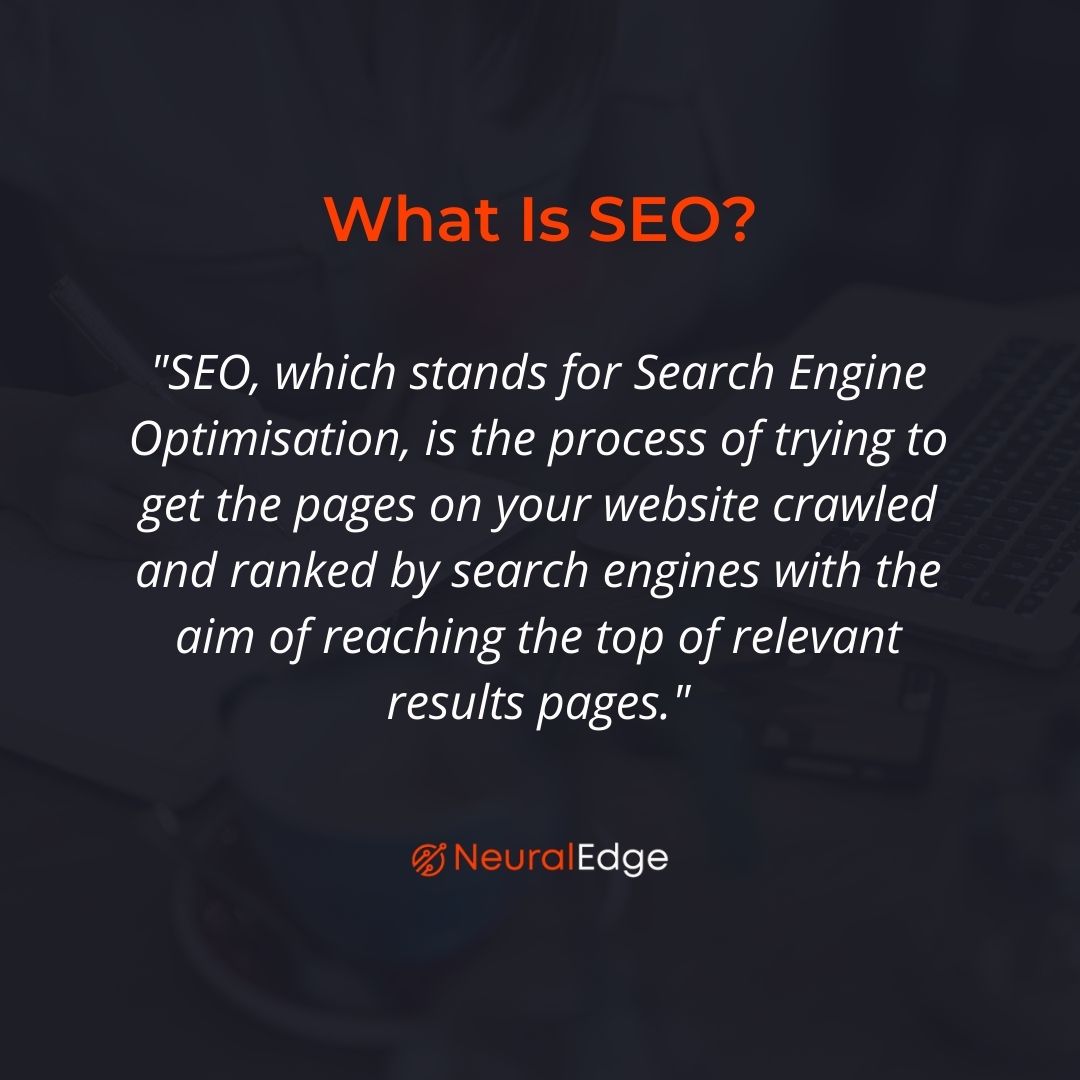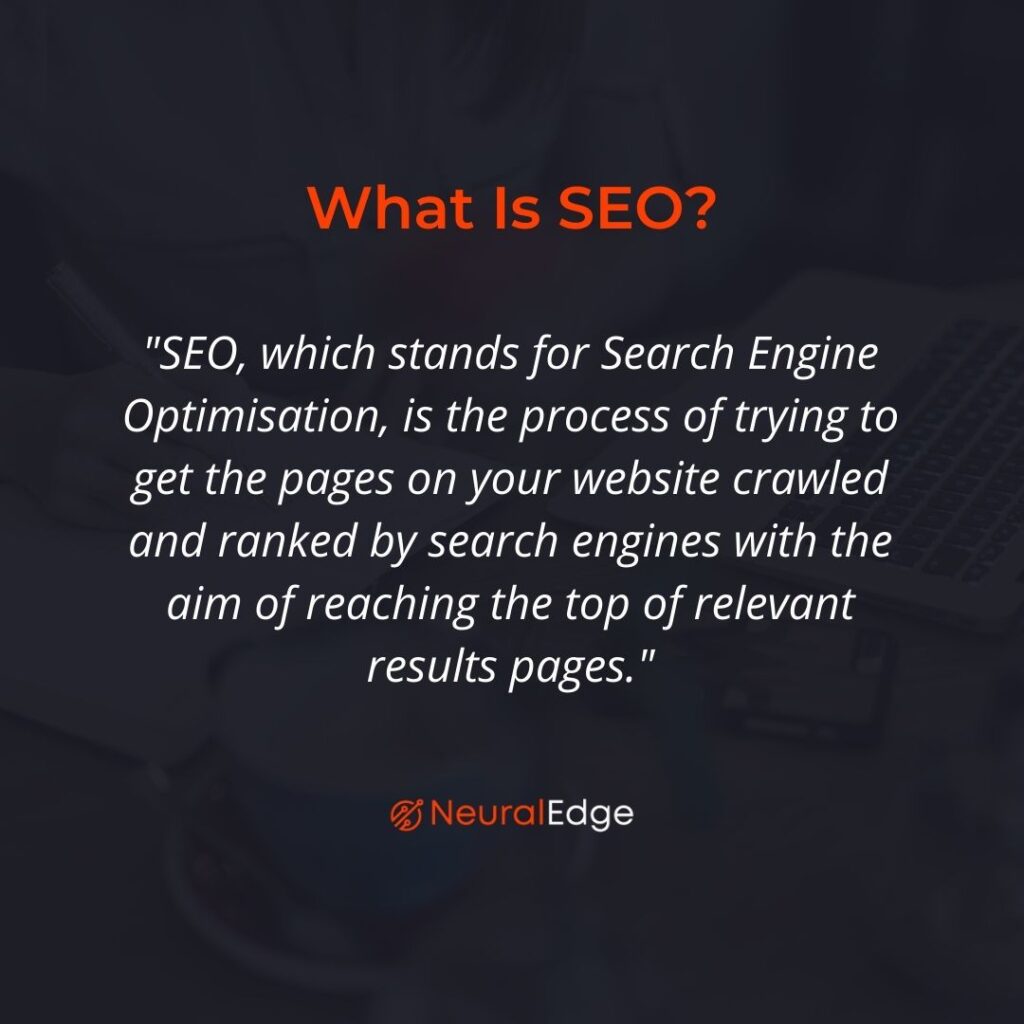 What Do We Mean By SEO?
Before we get into how to use SEO and PPC ads to achieve your marketing goals, it's helpful to define these terms. SEO, which stands for Search Engine Optimisation, is the process of trying to get eCommerce product pages, services pages, blog posts, and landing pages noticed by search engines. The aim is to reach the top of the SERPs.
Being at or near the top of the organic search engine results will generate more clicks to your website and more opportunities to generate a lead or make a sale. Achieving organic search rankings and driving relevant website traffic are two main goals of an SEO strategy.
According to Search Engine Journal over 25% of clicks go to position #1 while only 2.5% of clicks go to position #10.
There are many factors that affect where a page will rank in the organic search results. These include technical factors such as page speed and redirects as well as on-page and off-page content and mentions of your brand on social media and in the news.
Our basics of SEO post covers the specifics of SEO in greater detail while our SEO vs Content Marketing post takes a closer look at the relationship between content and SEO.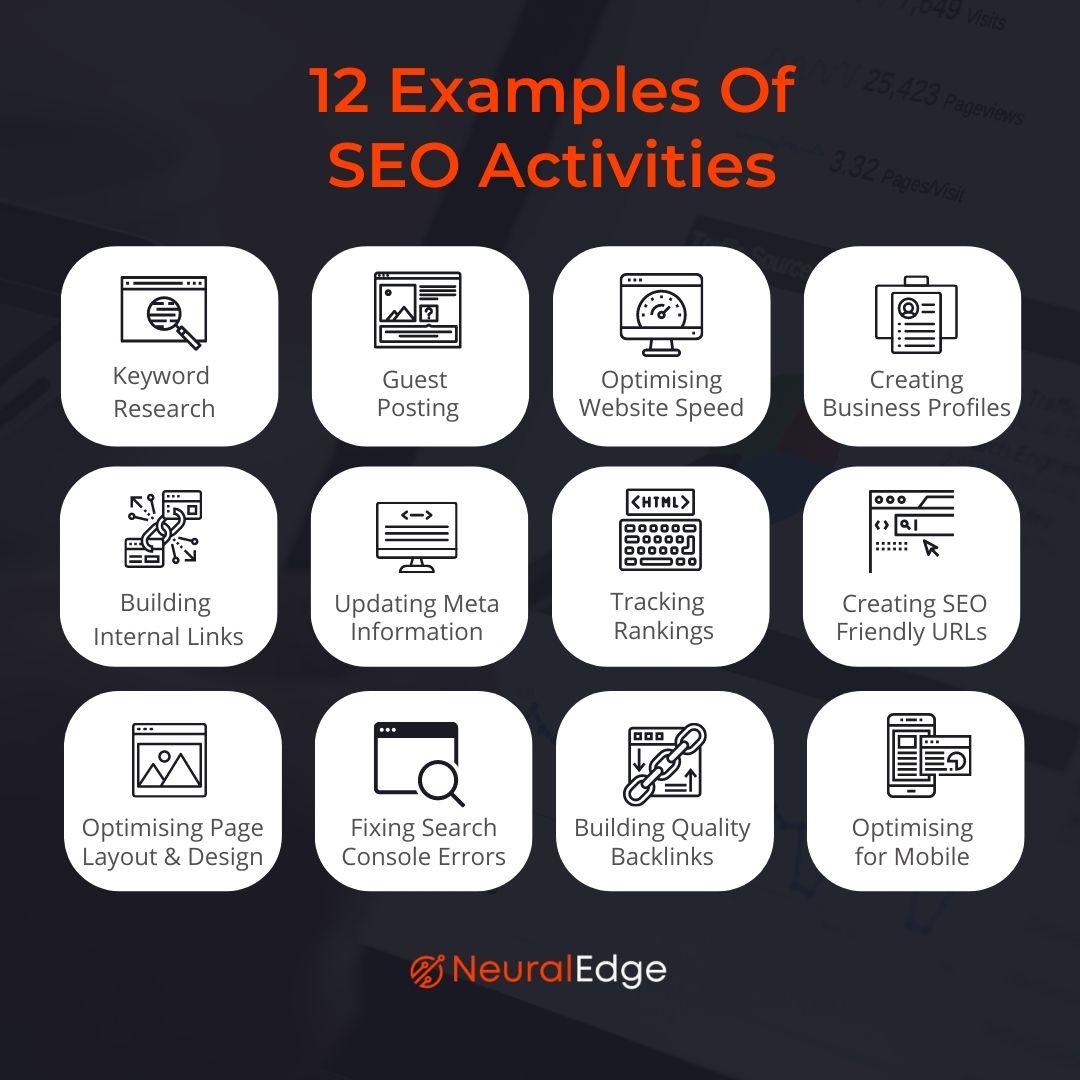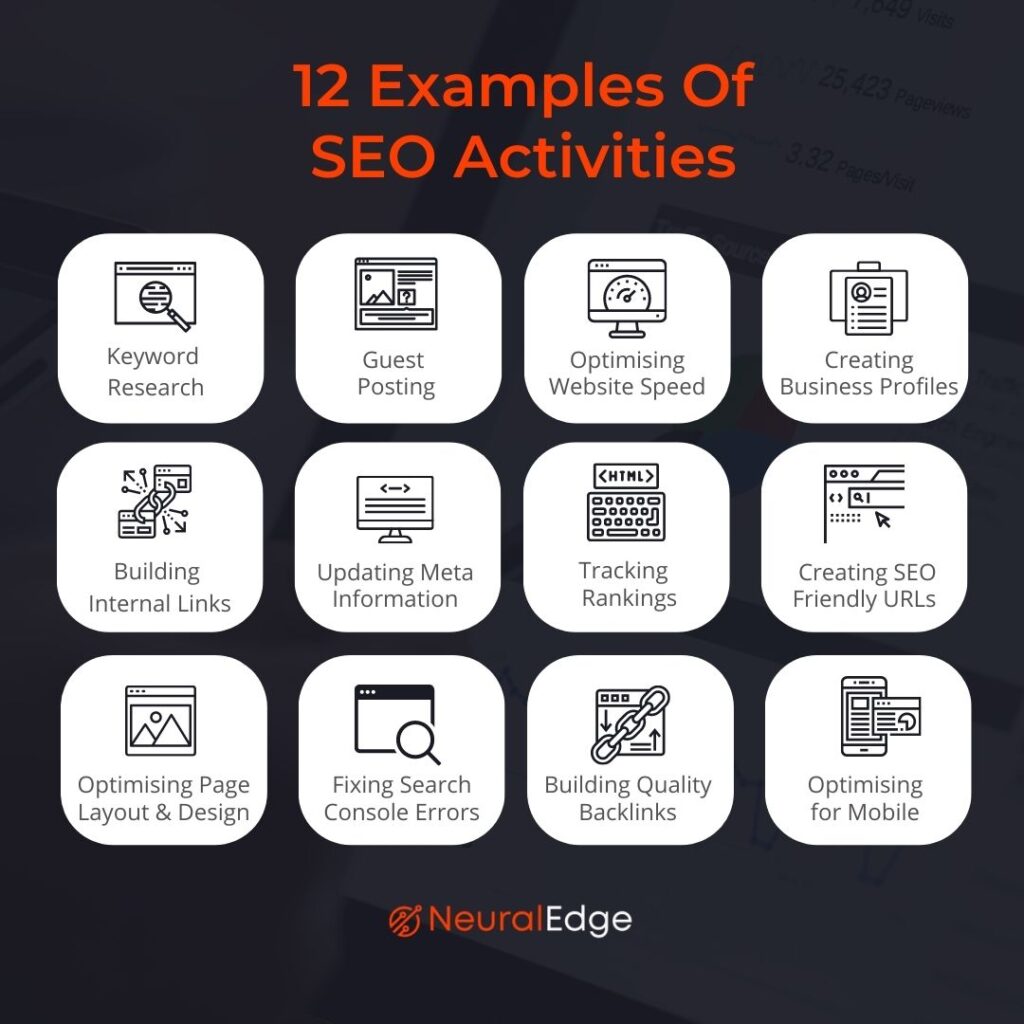 SEO Activities
While businesses need to monitor all aspects of organic search engine optimisation, most digital marketing strategies focus on creating SEO website content like blog posts, eBooks and articles as well repurposing content for social media in the form of videos and infographics.
Some common search engine optimisation activities that are used to rank websites organically include:
Optimising websites for technical SEO
Writing and distributing search engine optimised blog content
Adding target keywords and relevant information to landing pages
Using long-tail keywords to target buying intent phrases
Setting up tracking in Google Analytics to monitor and report on top pages
Managing meta information
Generating backlinks
Marketers might still have to pay for aspects of an organic SEO campaign, such as hiring a content marketing and SEO agency to write and publish content or web developers to improve technical SEO and redesign content pages to make them more user-friendly.
Types Of Content Associated With SEO
Blog posts
Guest blog posts
eBooks & downloads
Explainer videos & YouTube videos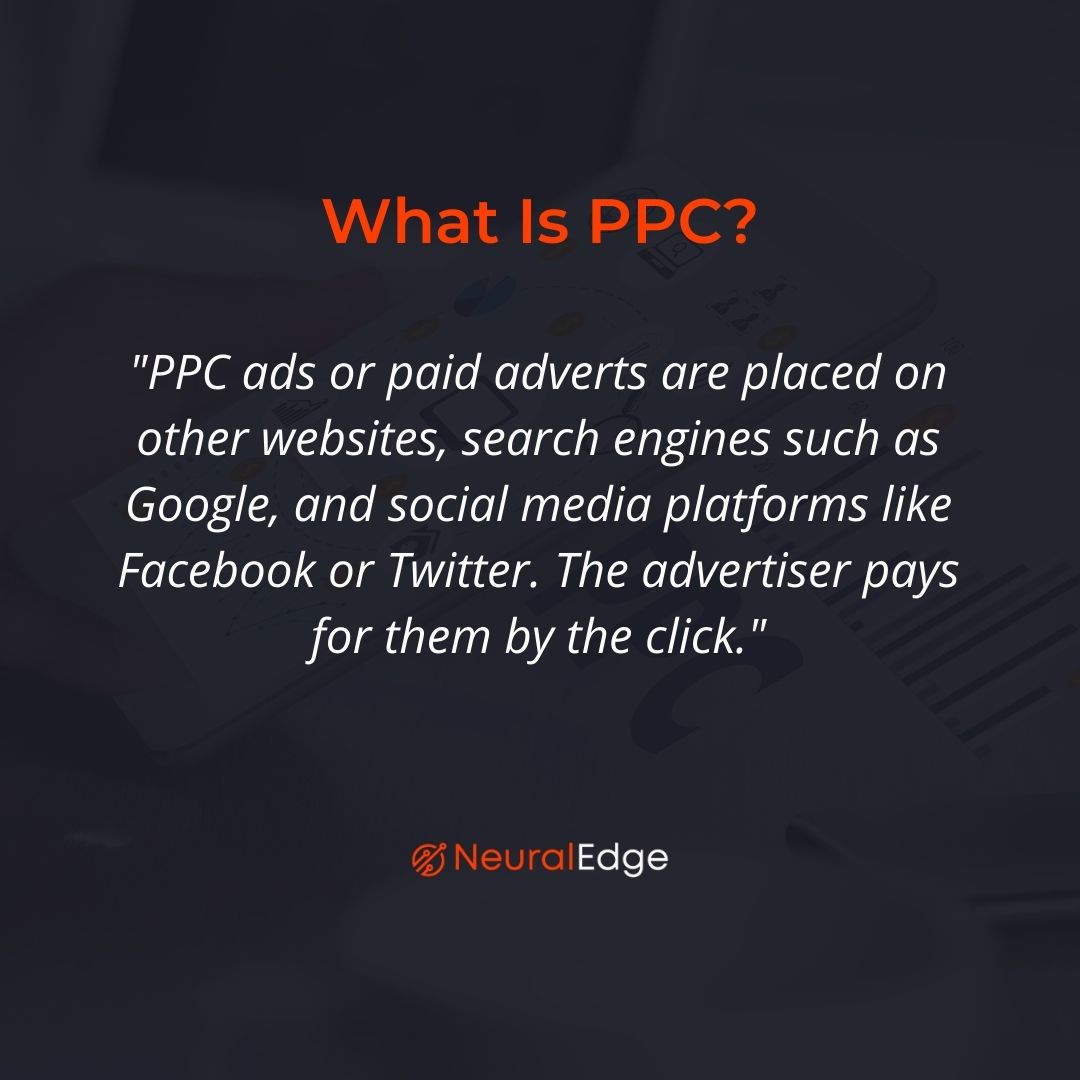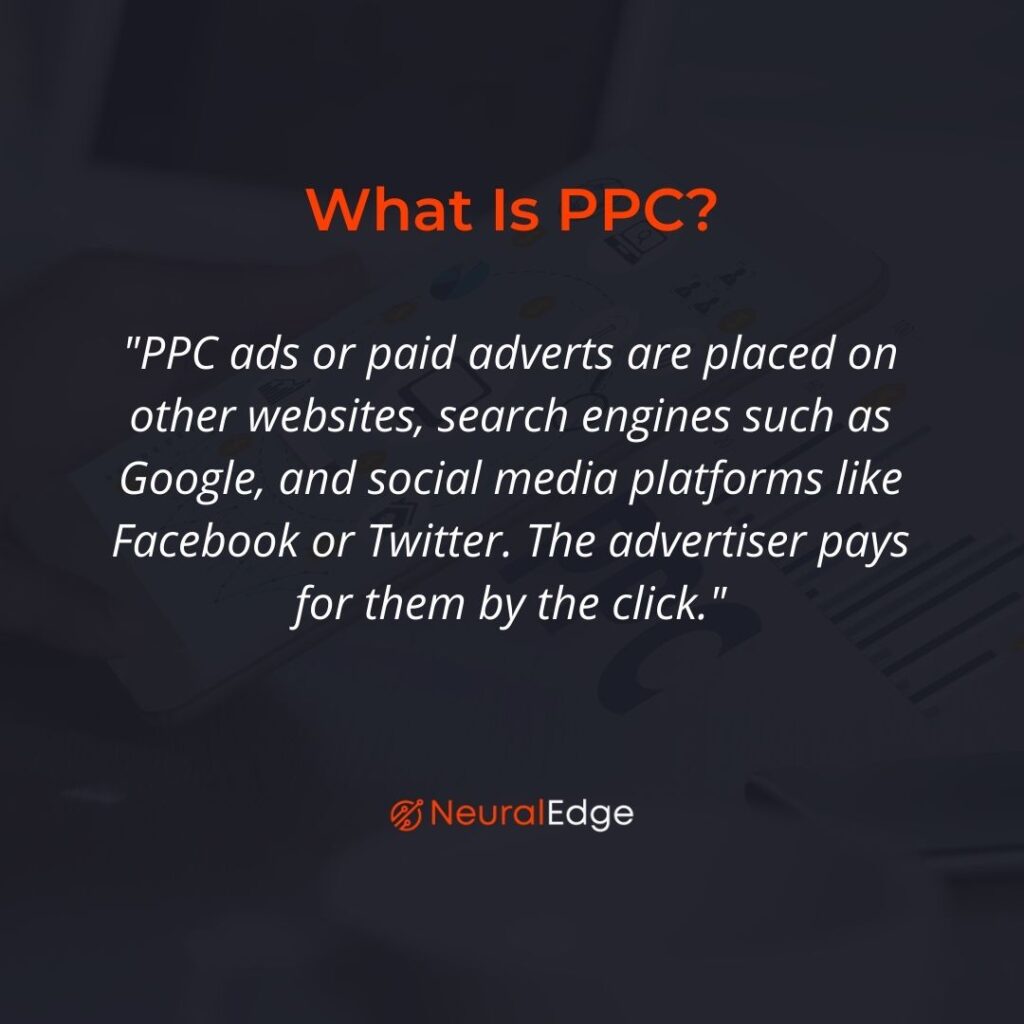 What Is PPC & Search Engine Advertising?
PPC ads or paid adverts are placed on other websites, search engines such as Google, and social media platforms like Facebook and Twitter. They are paid for by the advertiser by the click – hence the name pay per click.
Many platforms offer paid ads, and they come in a variety of forms. Marketers can boost their existing organic content to get it noticed by their target audience, place banner adverts on sites or even pay to get their website to the top of relevant search pages by utilising search advertising.
Paid Marketing Ad Placements
Some of the most popular types of search engine advertising and paid adverts include:
Banner adverts
Video ads inserted into content on platforms such as YouTube
Paid promotional inserts in podcasts
Promoted posts on social media platforms like Facebook
Paid influencer marketing
Affiliate marketing
Paid retargeting adverts
PPC Activities
Adding new keywords to campaigns
Adding negative keywords to campaigns
Creating ad visuals and copy
Managing ad budgets, cost per click and other important metrics
Optimising ads to prioritise best performing creative
Pay Per Click & Paid Ad Payment Options
There are also various payment options on offer when it comes to paid ads. One of the most common is Pay Per Click or PPC ads. These ads are targeted at specific website visitors, but businesses only pay for the advert if a user engages with it and click on it.
Other payment options for paid ads include subscription formats, one-off payments for individual advertising slots in video or audio content and by the number of impressions an ad will receive.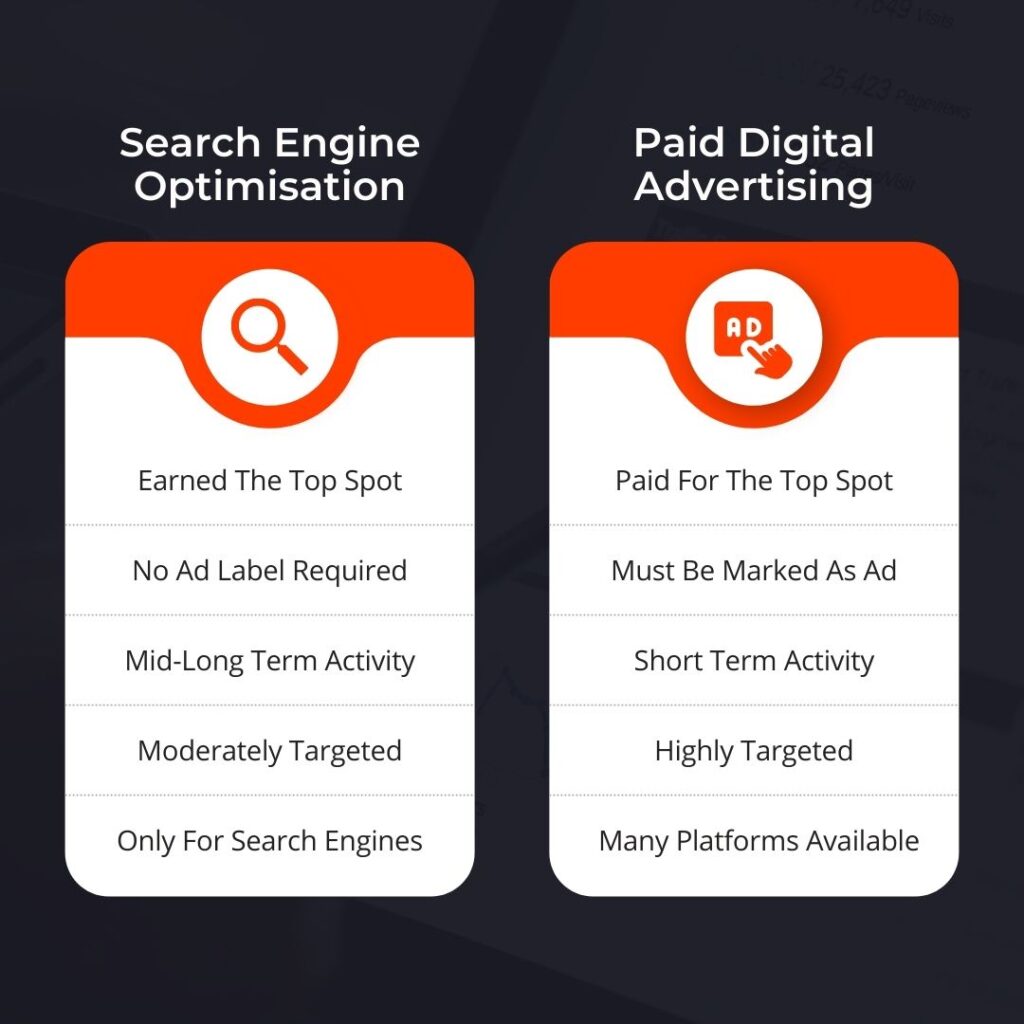 What Is The Difference Between SEO & PPC Ads?
Now we know more about SEO and PPC, let's jump into our SEO vs PPC comparison. Here we've compared SEO and PPC side by side to see how PPC advertising stacks up against search engine optimisation.
Organic Results Vs Paid Placement
The first thing to note in our SEO vs PPC comparison is that if organic content reaches the top of the organic results or receives a lot of engagement, that is because of its quality and insightfulness, not the fact that the marketer paid to boost it, which is the case with PPC marketing. PPC Ads bid to be at the top of the page for certain search terms and the cost to be there varies dramatically.
Results Being Marked As 'Ads'
Secondly, Organic SEO doesn't need to be marked as an 'ad' such, while search advertising results and other PPC ads need to show that they are paid promotions so that users understand organic content vs paid ads. This can have an impact on the click-through rate and is something that needs to be monitored on a campaign by campaign basis.
Time-Scale & Scope of SEO vs PPC
Paying for adverts is a great way to boost a website and get noticed quickly. At the same time, organic SEO is useful for generating scalable growth over time and associating a site with keyword terms to rank higher in organic listings. SEO isn't 'free' but it can deliver long-term organic growth.
SEO vs PPC Targeting
Another SEO vs PPC aspect to compare is targeting. Paid search marketing and other forms of paid ads can be highly targeted at users, even down to postcode, income and where you last checked in.
On the other hand, SEO helps capture people while they're actively searching for your product or service. So, it still means you're reaching a highly targeted audience, it's just that content cannot be targeted in the same way as PPC ads, unless it's boosted, as we discussed earlier.
SEO vs PPC Cost
The final point to note is that both PPC ads and organic SEO involve paying for services, but the difference is that paid adverts reach specific audiences because marketers pay to get there. The more people you want to reach, the more you need to spend.
With organic SEO, marketers can hire a content marketing agency to create the content, upload it to their website, and track the organic traffic results it drives. The variable here is the amount of content that's produced a month. We'll cover this point in more detail in the next section.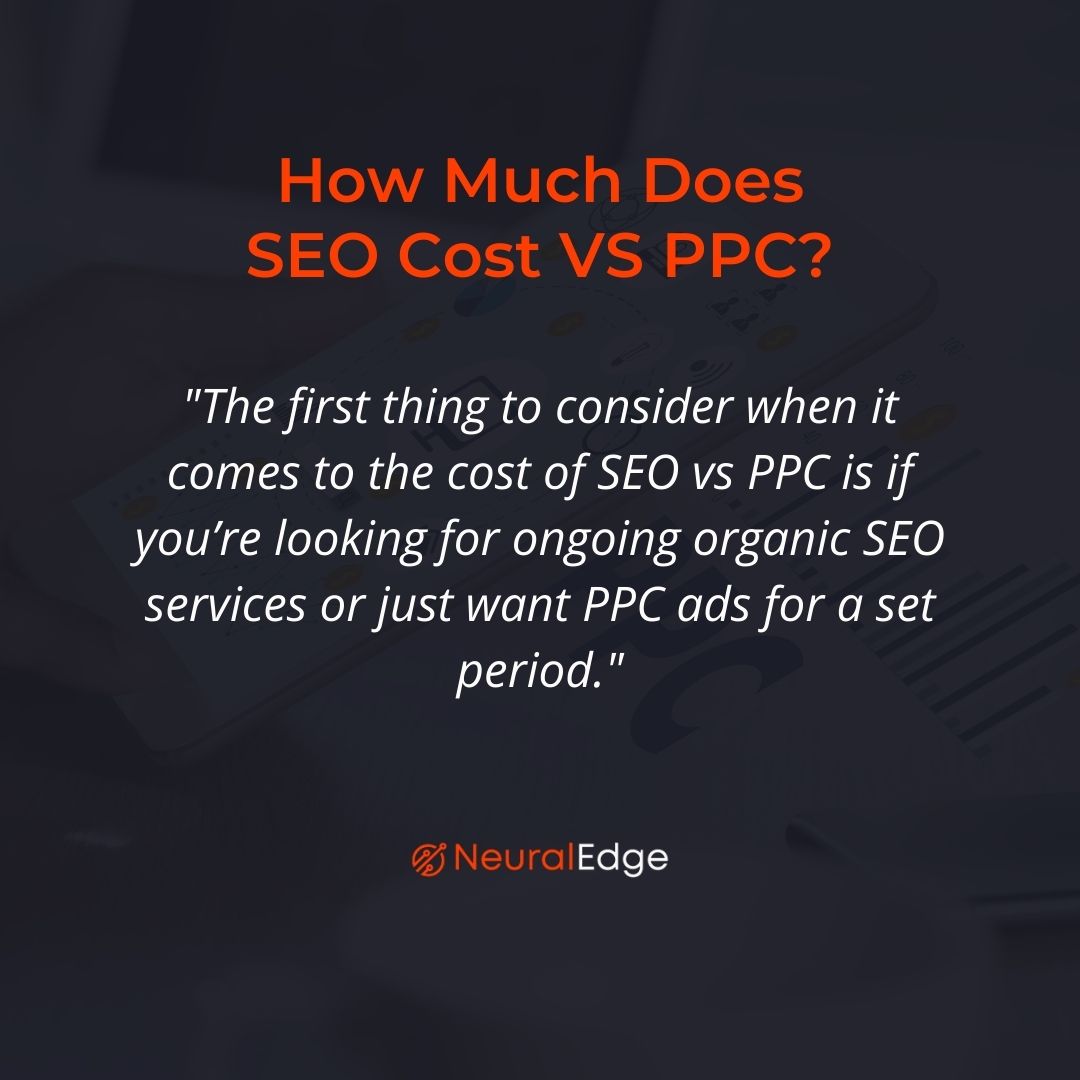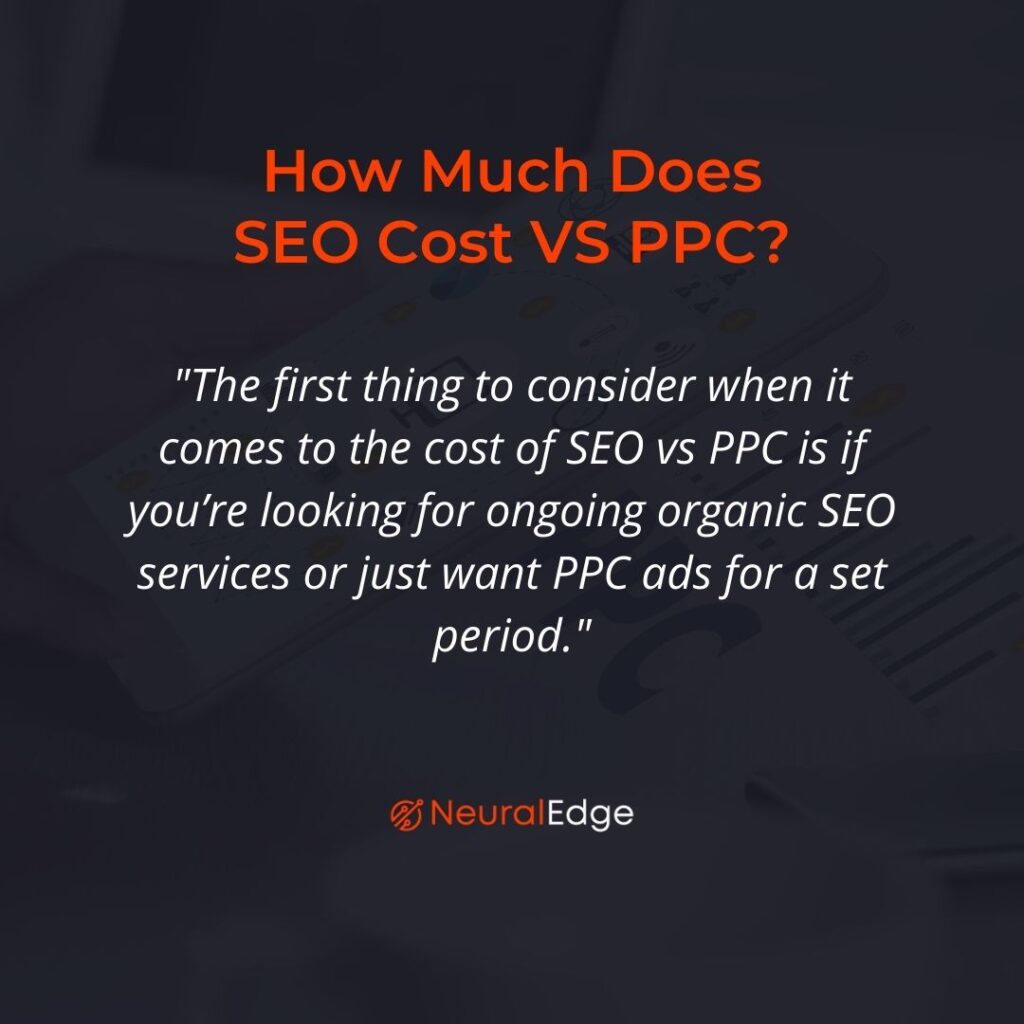 How Much Does SEO Cost VS PPC?
Now that we've covered how PPC ads compare to organic SEO, let's look at the costs involved. As you'll see shortly, both forms of marketing are great but to be effective; they need to form part of an ongoing online marketing strategy that incorporates both.
The first thing to consider when it comes to the cost of SEO vs PPC is if you're looking for ongoing organic SEO services or just want PPC ads for a set period.
Oliver Says ''PPC is great for getting instant traffic. You can switch it on and off like a tap and be extremely targeted by keyword and audience. The bid strategies on Google Ads are so sophisticated these days that you can essentially trade money in return for sales."
You can expect to pay anything from £500+ a month for a starter PPC ad budget and then you'll need to add agency fees on top which is essential as they have the expertise to manage and optimise your paid search and display campaigns.
On the other hand, if you're hiring an SEO agency, there aren't usually any additional budget costs on top of the agency fees.
That being said, you may need to set a budget for link building campaigns, influencer campaigns and sponsored content. It depends on your business, your strategy and the audience you're trying to reach.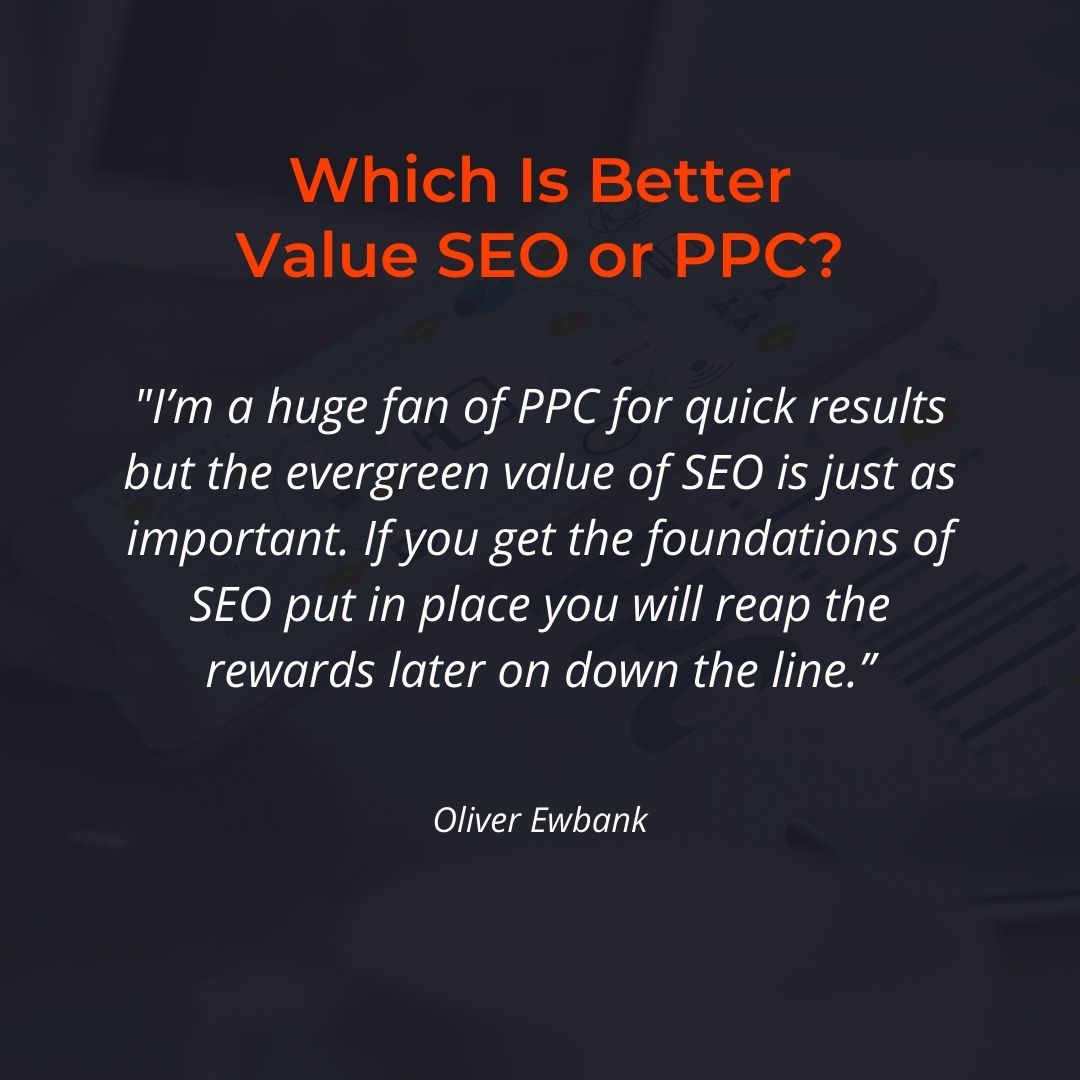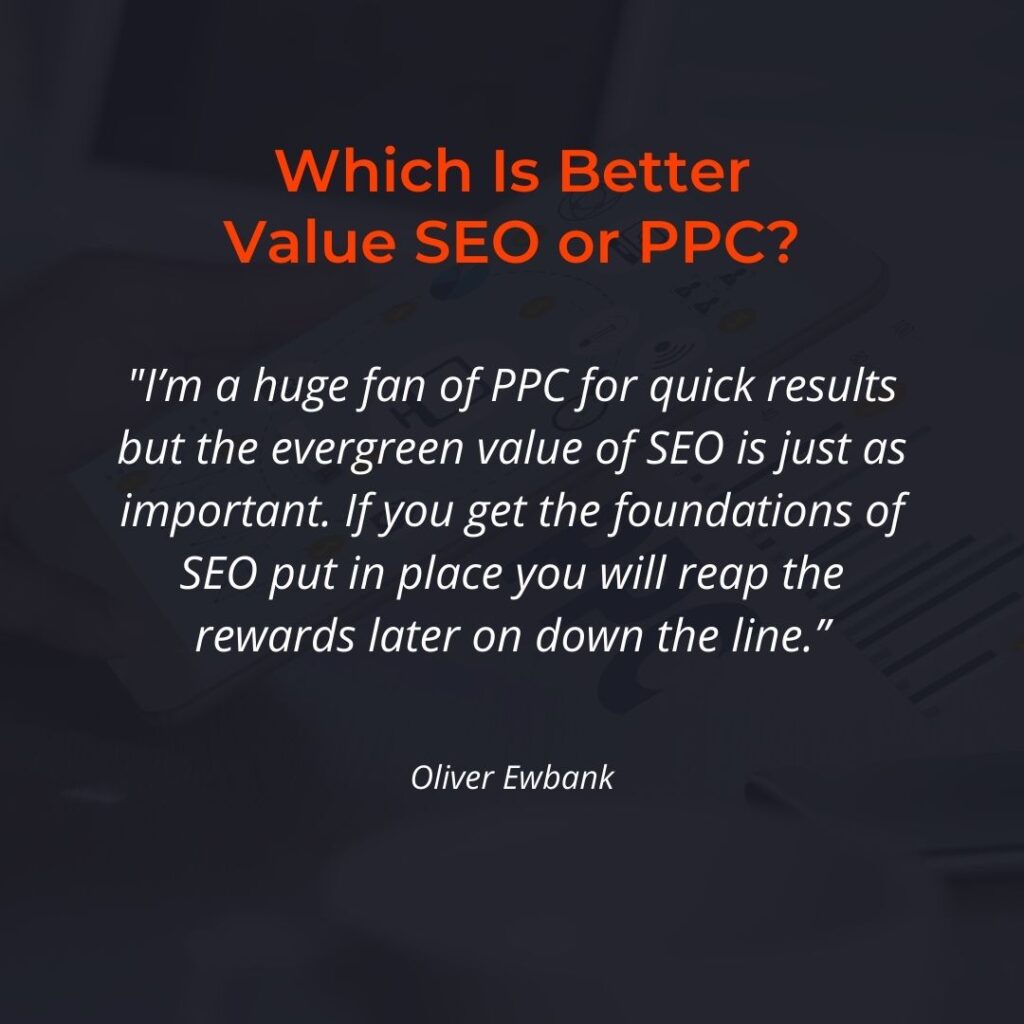 Which Is Better Value SEO or PPC?
One of the reasons PPC feels like better value in the short term is that it can deliver immediate results. As long as your CPA is lower than the LTV of your customers, your campaign will likely be successful.
The downside is that once you turn the ads off, the website visits, sales, and leads will stop coming – unless you have an organic SEO strategy in place too.
Oliver says "I'm a huge fan of PPC for quick results but the evergreen value of SEO is just as important. If you get the foundations of SEO put in place you will reap the rewards later on down the line.''
Using SEO to get your landing page or product page onto page one of the organic listings takes time, and as we've discussed, there are many factors involved.
By targeting a primary keyword and some close keywords related to your main term pages can appear in the organic results for hundreds of related terms, driving even more traffic.
Both SEO and PPC deliver great value and really should be used together. If you're looking for sustainable long term growth, then SEO is for you. But, if you need quick sales, look at building a PPC campaign.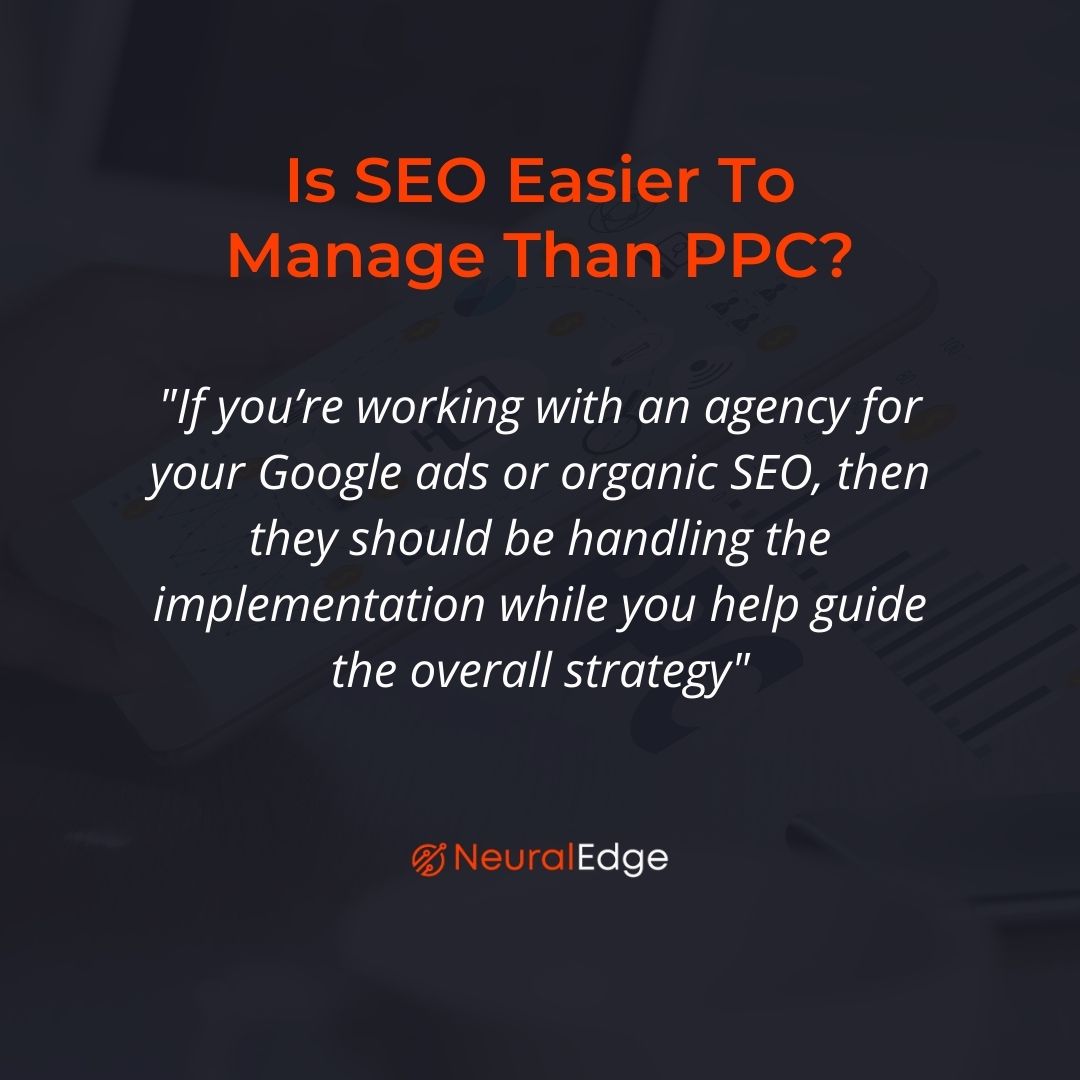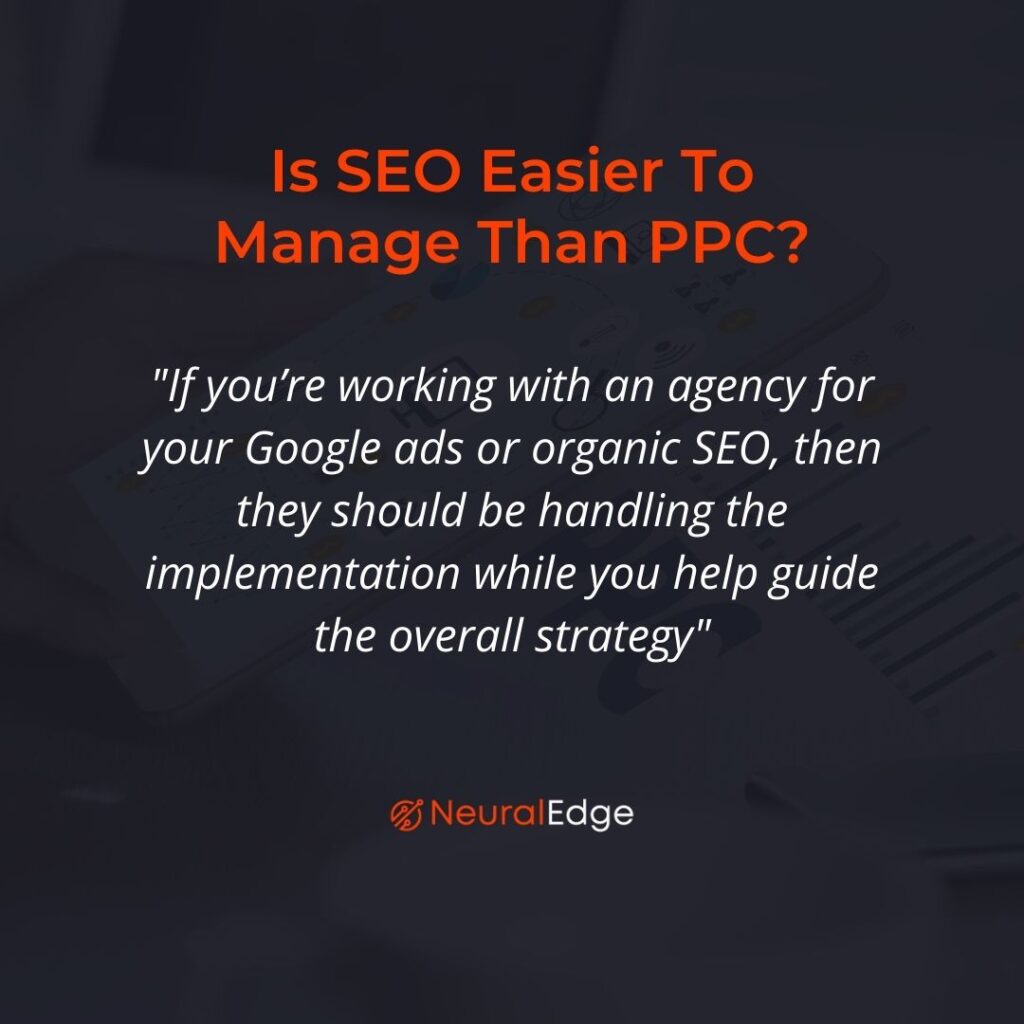 Is SEO Easier To Manage Than PPC?
The next question people usually ask is whether organic SEO services are easier to manage than paid ads?
If you're working with an agency for your Google ads or organic SEO, then they should handle the implementation while you help guide the overall strategy and how these tactics fit with your overall marketing plan.
DIY SEO & PPC
SEO is more time-consuming than PPC since it involves monitoring your rankings and adjusting your strategy accordingly to continue bringing in organic traffic. There's also a lot of content to write.
PPC is faster to set up but when you have a PPC campaign, it's important to remember that this will only last for the period in which people are willing to pay for your ads. If they're not being clicked on by users because of ad blindness or ad fatigue, then you may be left with no traffic at all.
In terms of ease of management, this is also something that depends on your experience and how much time you have to dedicate to it. While organic SEO can be a little complicated when you first start, it will require little upkeep when your campaign is working.
You can spend your time focusing on improving your business and increasing your ROI, but this will require more of your attention throughout the day with PPC.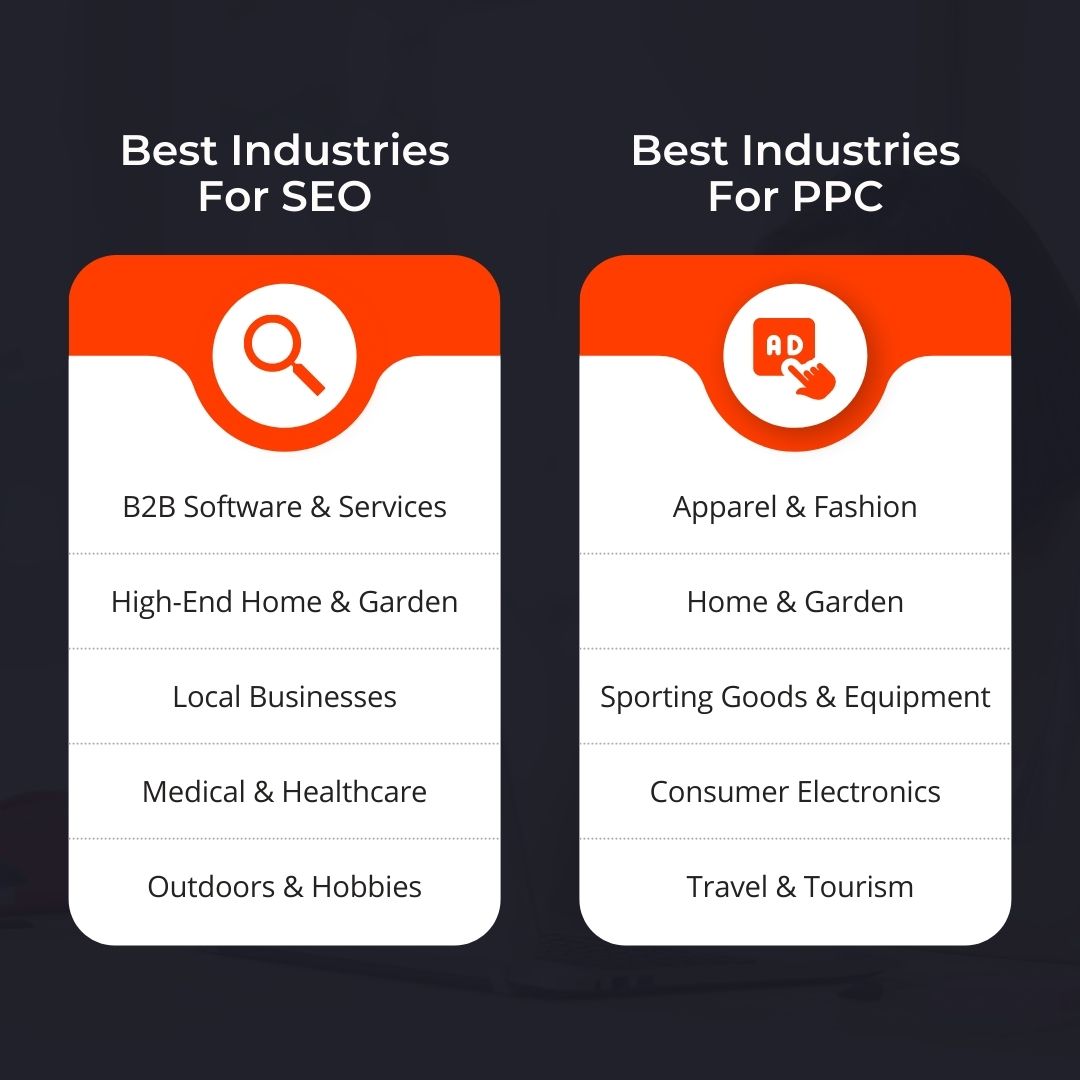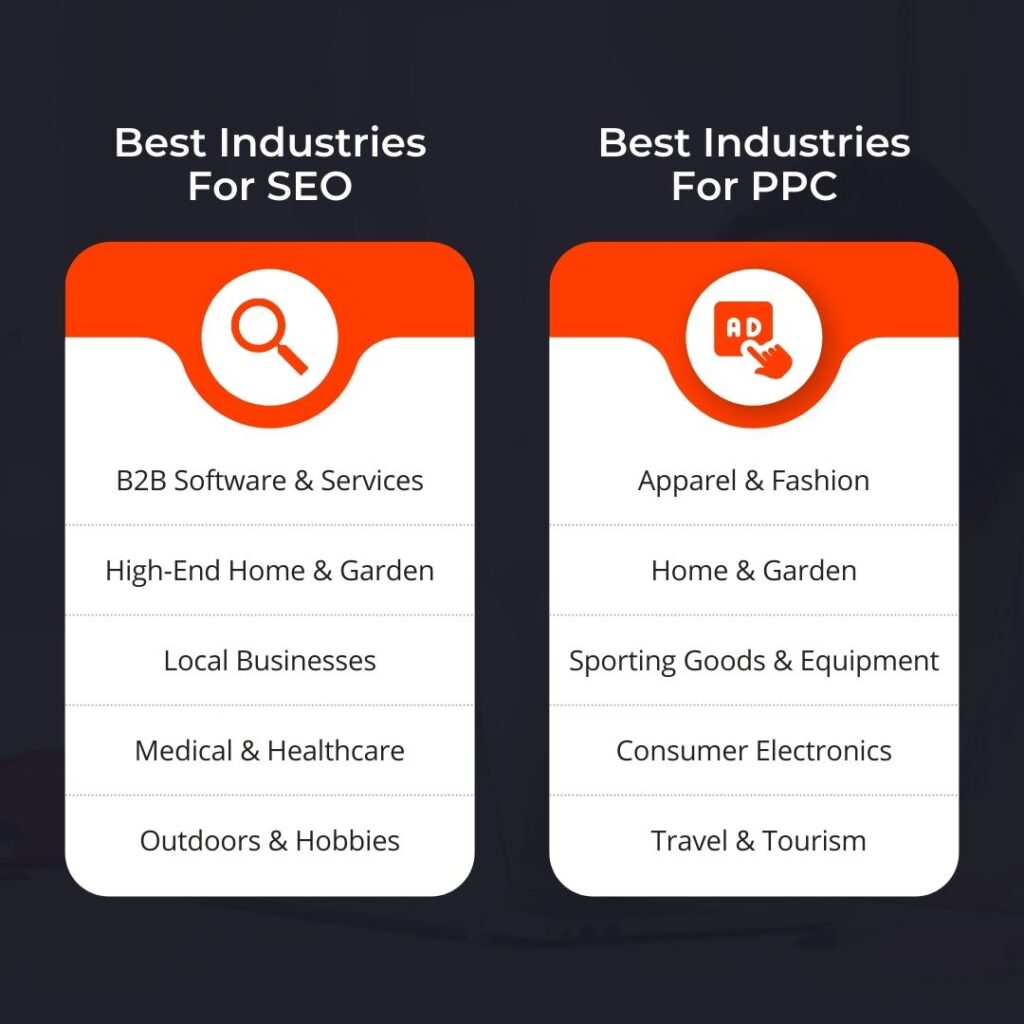 Which Is Best Suited To My Industry, SEO vs PPC?
Many people think that content marketing and PPC are mutually exclusive tactics. The reality is that you can benefit from both of these strategies if you know how to deploy them.
Best Industries For SEO
SEO is something that's suited to most industries. This is because all businesses can benefit from increased visibility and higher rankings. However, some may see better results than others, depending on their industry.
For example, if you run a B2B company, SEO can work well for lead generation, brand awareness, and building authority in your industry.
You may focus less on paid ads and more on outranking your competitors in terms of organic search results, which brings in more business from prospective clients in the market for your product or service.
B2B Software & Services
High-Value Home & Garden Products
Local Businesses
Medical & Healthcare
Outdoors & Hobbies
Best Industries For PPC
With PPC, however, this is generally best suited to B2C businesses since the aim here is to get clicks on ads that help bring in sales directly from consumers. Some popular industries that use PPC are:
Apparel & Fashion
Home & Garden
Sporting Goods & Equipment
Consumer Electronics
Travel & Tourism
If you're a B2C business, this can boost your sales and get new customers through the door in the short term, such as for a new product launch or campaign.
Just because you're a B2C business doesn't automatically mean you should invest in PPC, though. You have to think about whether your target audience will be using search engines to find products.
Another thing to consider is whether or not many competitors in your industry will appear higher than you if customers use organic search results.
If this is the case, it may make a lot more sense to set up a PPC campaign and start bringing in customers who are more likely to buy while working on SEO long-term.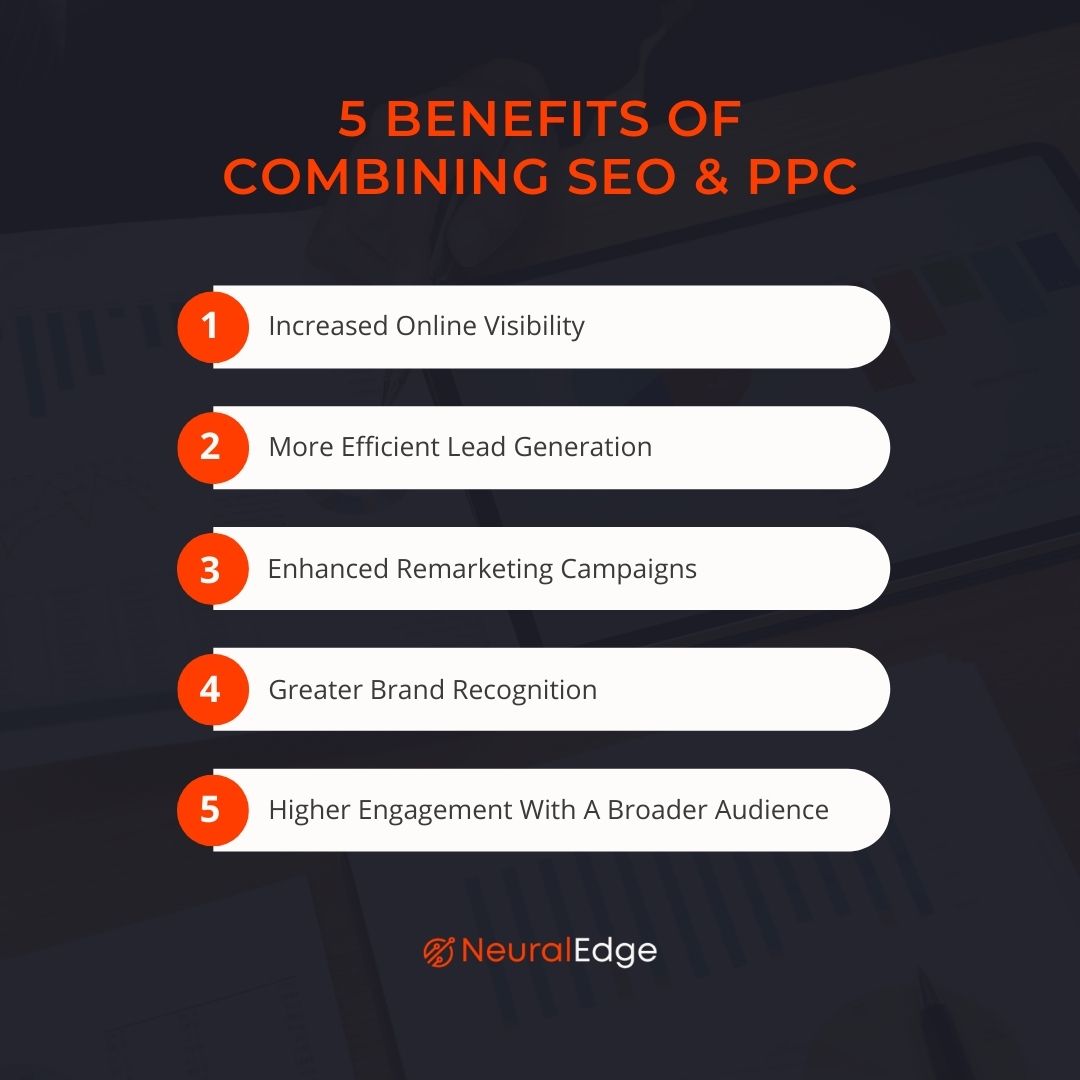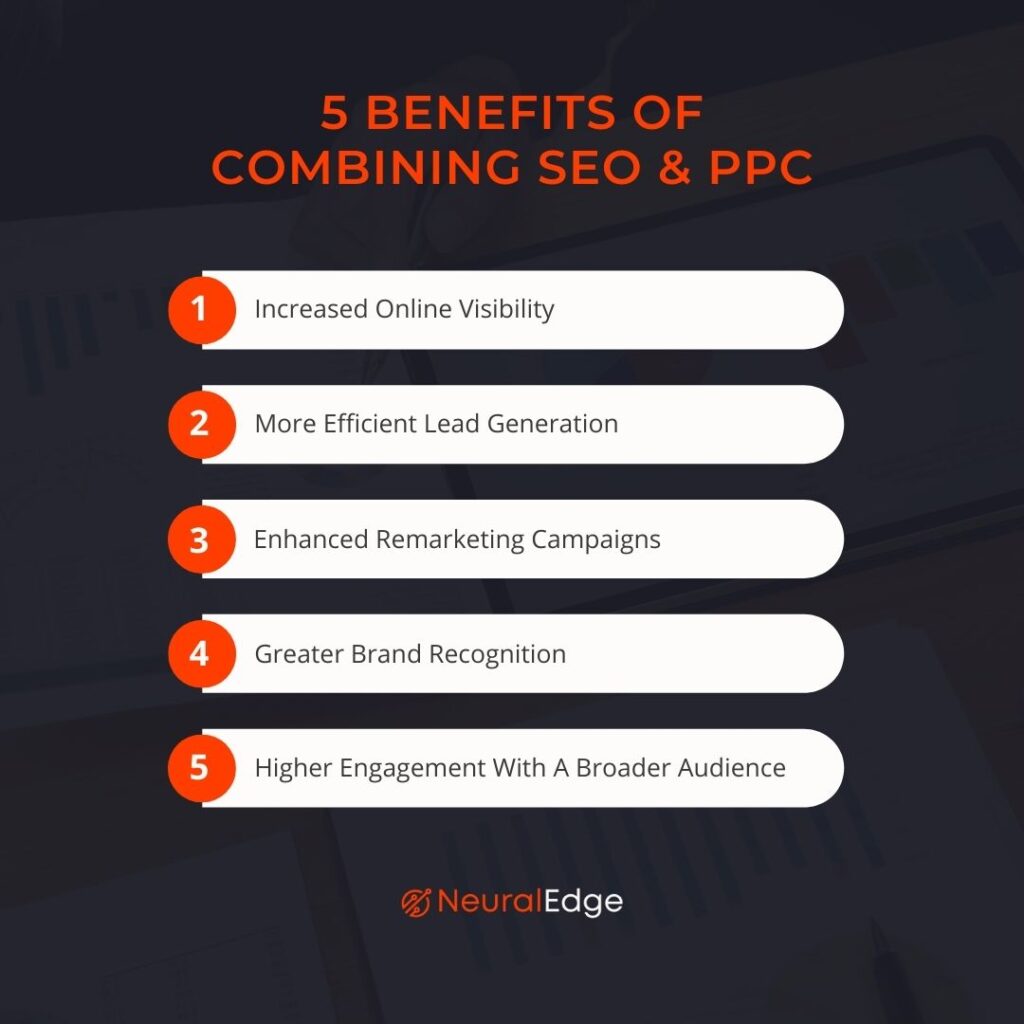 Why Doing SEO & PPC Benefits Your Website
Marketers might be torn between running a PPC campaign and using search engine optimisation to drive search engine traffic, but they don't have to be. It's possible to use both SEO and PPC together, and doing so can help both tactics perform better than if they were used alone.
Some of the benefits of using paid search ads and SEO to drive traffic to your web pages are:
Increased Online Visibility: Paid search advertising can get a site noticed and drive users towards SEO content.
More Efficient Lead Generation: PPC campaigns can be a quick way to generate leads, while organic SEO can help to educate them and funnel them through the sales process.
Boost Brand Recognition: Paid adverts can catch the eye of internet users so they will remember the branding when they see find your content in the organic search results.
Enhance Retargeting: Organic SEO can help businesses attract new leads, but paid adverts can help marketers retarget them if they drop off.
Test New Ideas: Since organic SEO is usually cheaper than running paid ads, it can be a great way to try out new ideas and see if they work before investing in paid adverts.
Double Exposure On Key SERPs: If a business uses paid adverts on search engine results pages where it also has organic content, it can double its exposure and showcase its expertise in this niche.
Flex With SEO Updates & Changes: Search engine algorithms and organic SEO results are volatile and can be affected by a range of factors, including the work of a business's competitors. Google ads are impacted as much, so marketers can improve their chances of staying at the top of valuable SERPs by using paid ads.
Engage With a Broader Audience: Some consumers avoid clicking on a paid ad and distrust them, so organic SEO can help brands engage with them. On the other hand, some customers are more susceptible and appreciative of text ads and visual product ads so that brands can engage with a broader range of potential customers with a combined approach.
Reduce Marketing Budget: By using organic SEO and paid adverts, marketers can optimise their budgets and make the best use of them as both can work together to improve ROI.
Generally, these benefits and more can help marketers combine paid adverts with organic SEO in their marketing strategy. This is one of the best approaches for organisations that want to achieve their digital marketing aims and reach their target audience.
One thing that is true for most businesses is that a combined paid advert and organic SEO has limited disadvantages. The combined strategy is flexible and allows companies to adapt to the fast-paced digital marketing space.
How To Do SEO & PPC For The Best Results
So we know that SEO vs PPC isn't a choice we want to make, but how can you combine SEO and PPC and make it work for your business? Here are two strategies that we use for our clients.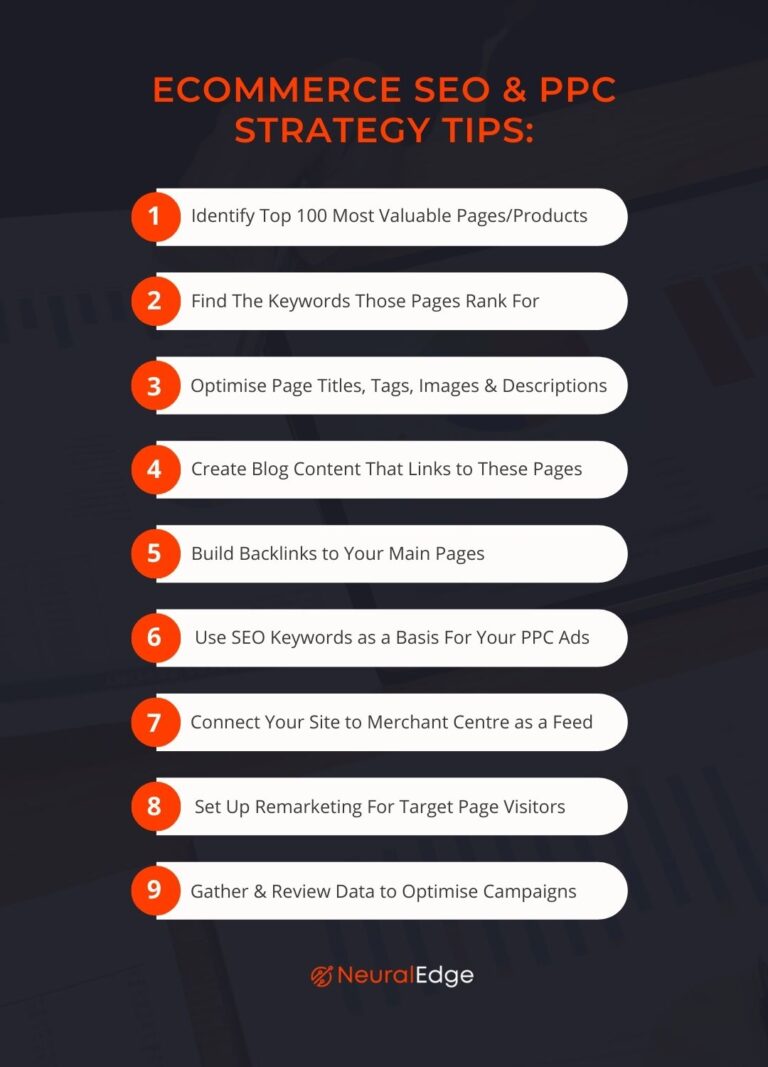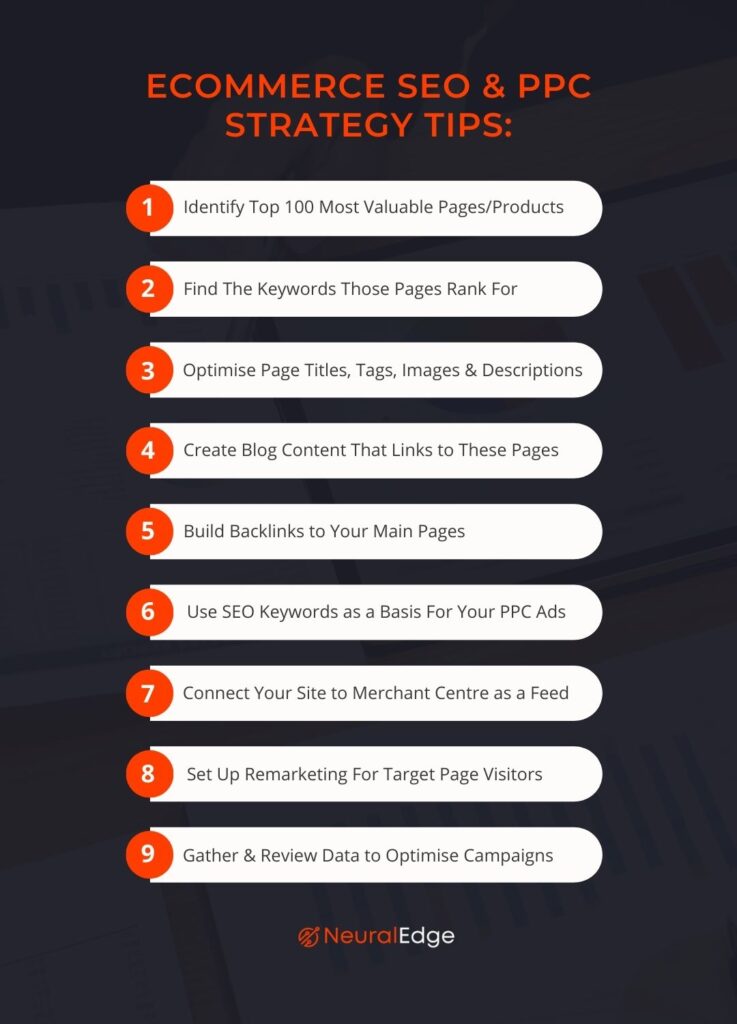 eCommerce Businesses
If you're selling online and using a PPC campaign to drive traffic and online sales, you must include retargeting ads in your campaign. These are critical for bringing users back to your site that might have read a blog post or review but didn't purchase on that visit. Sometimes it just takes a little prompt for someone to take action.
Oliver says that the more data you can give to a PPC campaign the better it will perform. "You need at least 15 conversions for an automated bid strategy to start working. The more mature your PPC campaigns are the better they will perform (as Google has more data to work with). We manage several large campaigns at Reeyap and data collection is a key part of our process"
eCommerce Organic Search & PPC Strategy Tips:
Identify top 100 most valuable pages (categories, products or blog posts)
Use an SEO tool to find the keywords those pages rank for
Optimise page titles, tags, images and descriptions for these keywords
Create regular blog post content that links back to these pages
Build backlinks to your main pages
Use the keywords you're targeting as a basis for your PPC ads
Connect your website to Google Merchant Centre as a live product feed
Set up dynamic remarketing ads that target visitors to these top 100 pages
Gather, review and use your data to optimise your campaigns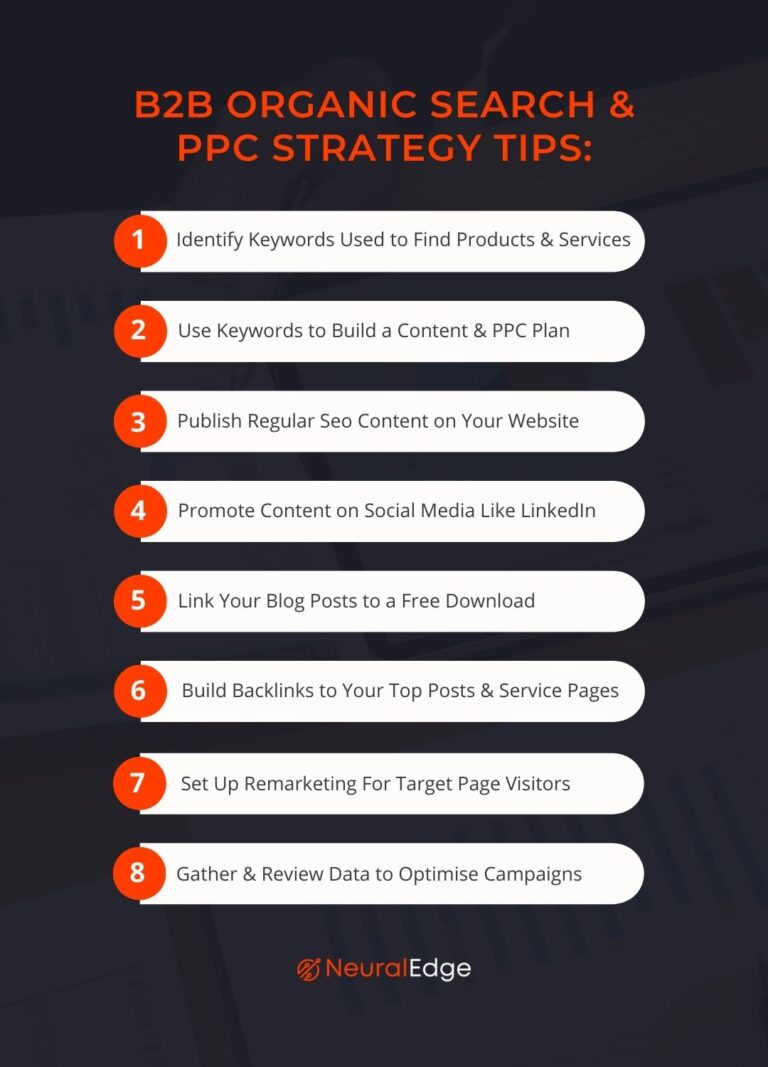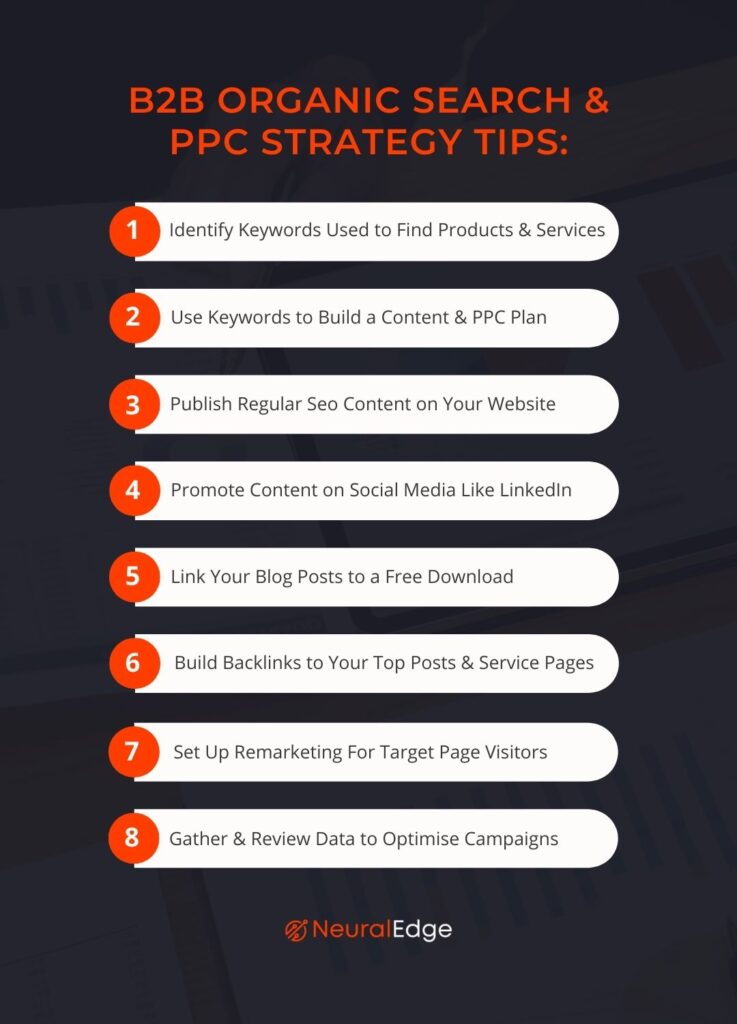 B2B & Service Businesses
SEO and PPC can work incredibly well for B2B businesses. The key is having landing pages and other similar website pages that your ads and content marketing can be directed to. These will form the main pages of your website and B2B content marketing strategy.
B2B Organic Search & PPC Strategy Tips:
Use a keyword research tool to identify the terms your customers use to find your products and services
Build out a content plan using these keywords to target each funnel stage
Write and publish regular SEO blog posts and content on your website
Promote your content on social media like your LinkedIn company page
Link your blog posts and articles to a free download, report or resource on your website
Generate backlinks to your top 'pillar posts' and service pages
Set up remarketing ads to target landing page visitors that didn't convert
Gather, review and use your data to optimise your campaigns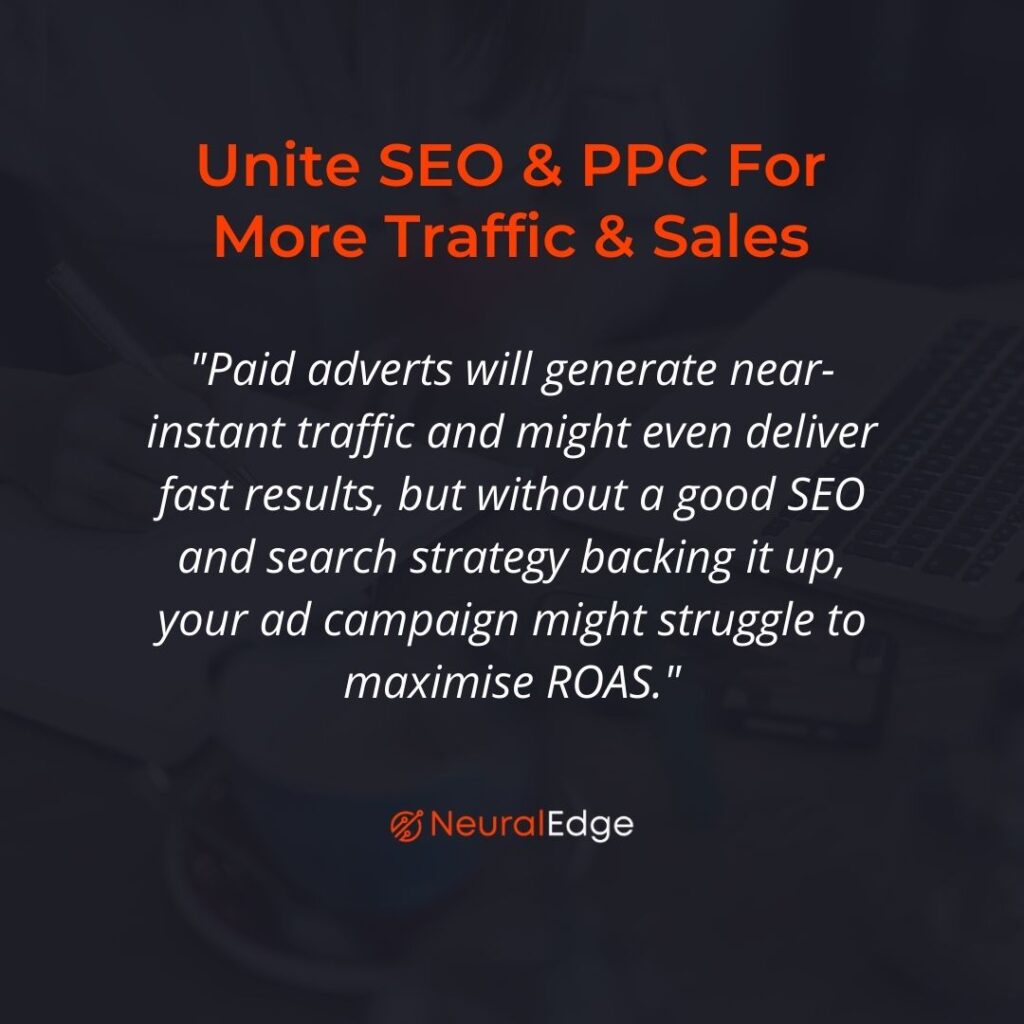 The SEO & PPC Debate – Unite SEO & PPC For More Traffic & Sales
If you've made it to the end of this post, hopefully, you've learnt how combining a PPC ad strategy with organic SEO can enhance your brand and help reach your target audience cost-effectively and efficiently.
Together, these approaches can help businesses reach their target market and achieve their organic traffic and online advertising goals. Paid adverts generally deliver fast results but aren't sustainable long-term. A good Google search strategy that backs up a PPC campaign will help to maximise ROI for your business.
If you're running an ad campaign and want to incorporate SEO into your strategy or just want to grow your search traffic by increasing your rank in the organic results, drop us a message here, and we'll get in touch to discuss your needs.