When it comes to digital marketing, many companies think they have to choose between SEO and content marketing. In fact, these approaches are intrinsically entwined.
Content is vital to SEO, and promoting that content by putting it on well-designed websites is key to a successful content marketing strategy.
This blog post explores SEO vs content marketing and looks at how we combine practices from both approaches to enhance your organisation's online presence and build a complete marketing strategy.
Differences Between SEO vs Content Marketing
Search engine optimisation is the technical process of creating and optimising a website and a brand's online presence aligned with guidelines supplied by major search engines, such as Google.
Content marketing focuses on the process of creating and distributing quality digital content for your business. Types of content that can be included in a content marketing strategy include:
Blog Posts
Podcasts
Infographics
Videos & Images
eBooks & Downloadable content
Therefore, while SEO and content marketing are linked, they're not exactly the same. SEO is the more technical side of digital marketing, while content marketing revolves around creating valuable content.
Content marketing is a part of SEO, and any content marketing strategy needs to focus on implementing SEO principles like targeting relevant keywords. Equally, content is a vital part of SEO, and therefore any SEO strategy needs to include content creation that is SEO optimised for organic search to generate more traffic.
You can read more on this subject in our post called the basics of SEO.
Similarities Between SEO vs Content Marketing
While there are many differences between SEO vs content marketing, there are also many similarities. The most obvious is that they both aim to achieve the same goal: to help your business grow its online reach by appearing in the organic search results. Other similarities include:
Both Approaches Require Strong Knowledge Of Online Promotion
Both Approaches Are Part Of A Company's Digital Marketing Strategy
Both Approaches Are Essential For Any Modern Business
Each of these approaches can benefit the other if done correctly. Most search engines require valuable and relevant content that contains your target keywords to get you to the top of your target SERPs.
Equally, content is worth very little if it's not promoted online or hosted on a reliable and usable website. So, it's important to make sure that we combine the two approaches. Using social media marketing and PPC to promote content is a good idea too, especially given the effect of SEO on PPC.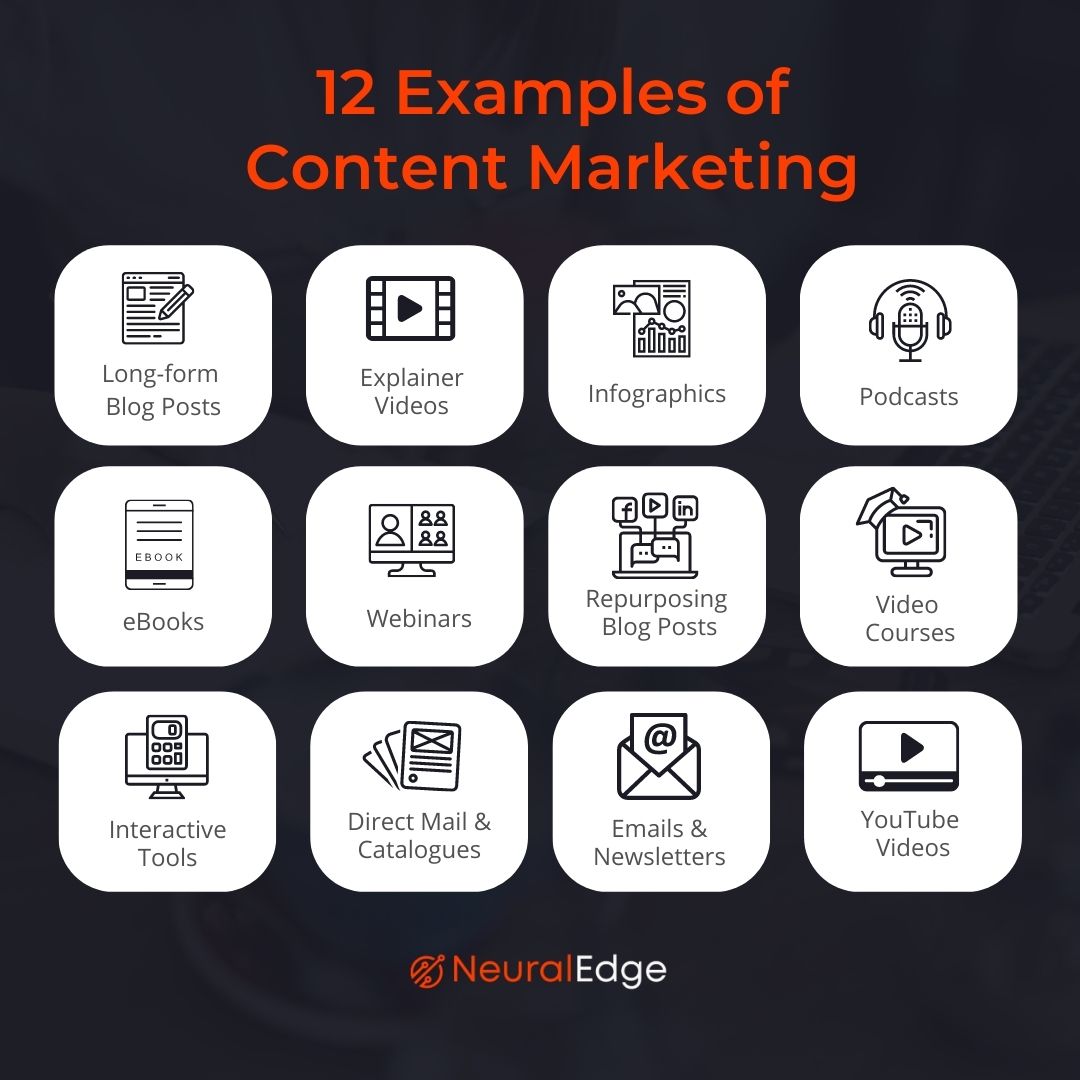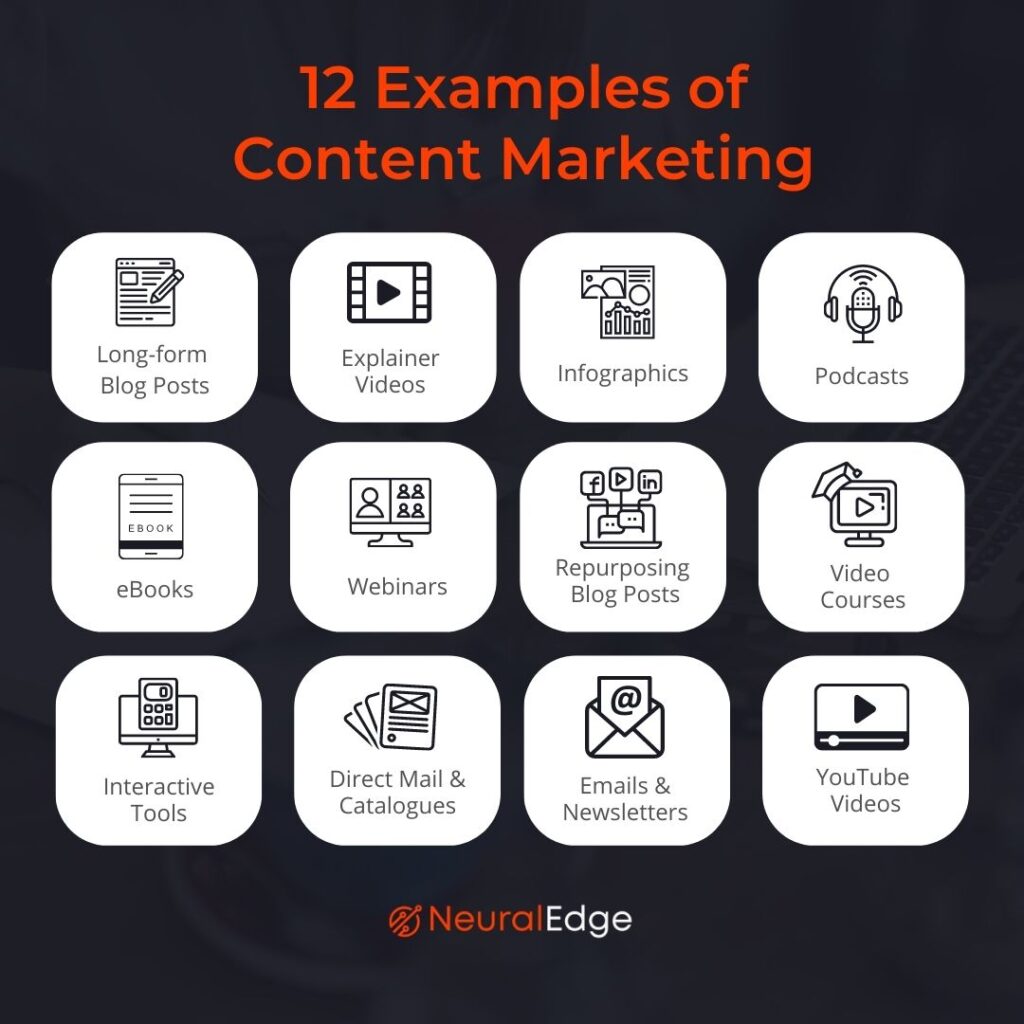 12 Examples Of Content Marketing Activities
Within content marketing, there are many different types of services that agencies can provide and various tasks that businesses can use to engage with their target audience. Content marketing strategies can incorporate a range of content in all shapes and sizes making content marketing a varied and flexible discipline.
Here are 12 examples of common content marketing activities that many businesses and content marketing agencies engage in to drive more organic traffic.
#1 Long-Form Blog Posts
When you think of content, you probably think of long-form blog posts, as these are a common type of content. Long-form blog posts are typically over 1000 words and act as ultimate guides and useful resources for readers.
By writing content like this and including calls to action and promoting it in the right way, your business can do much more than just inform your readers. You can also showcase your organisation's industry insight and potentially generate valuable leads.
Long-form blog posts are an essential part of every good content marketing strategy and should be written with an SEO focus on search intent while containing the relevant search queries that you want to rank for in the SERPs.
#2 Explainer Videos
Video is a useful form of content that attracts a wide range of viewers. As such, we recommend your business embraces video content and considers creating explainer videos to showcase your knowledge and insight.
Many viewers find that explainer videos are one of the most efficient ways to learn new skills, so these videos can be useful for attracting your target audience and improving your company's online presence. These videos should be hosted on your website and shareable via social media channels.
#3 Infographics
They say a picture is worth a 1000 words, but when you create content it's important that you try to do both. That means both writing top-quality content with relevant keywords and turning it into infographics to reach a different audience.
Infographics are images that offer insight and information, almost like a beautiful diagram. These images can be useful for attracting website visitors who don't like reading long blog posts but still want detailed information. They are great for on-page SEO and can be a useful tool for link building campaigns.
#4 Podcasts
Podcasts are a fun and interesting way to impart information and showcase your business's expert knowledge. Thanks to the plethora of podcast-making tools available, it's surprisingly easy to create your own show.
While podcast episodes and audio files won't necessarily benefit your SEO, you can also create a website for your show and use your written podcast description to include useful keywords and help get your podcast noticed by your target audience.
You can also think about transforming your written content into audio form and publishing it as a regular podcast alongside long-form blog posts.
#5 eBooks
Publishing print books can be expensive and time-consuming without actually benefiting your online presence. Thankfully, eBooks are an ideal alternative to printed books.
eBooks are digital book files that can be distributed to eReaders, such as the Kindle. Additionally, eBooks can be provided to readers in a range of other file formats, such as PDFs and large word documents. These long explanatory texts can be useful for generating leads and getting contact details from potential clients.
The use of eBooks in content marketing strategies is very common and are a great example of high-quality content that can be hosted on a landing page behind a form to ensure that the people downloading your content are genuine prospects.
#6 Webinars
Another modern content solution is webinars, also known as online conferences. Online conferences can be scheduled at a specific time for attendees and then posted in video or audio form retrospectively.
Webinars can be useful for showcasing your industry expertise, as well as for networking with your industry peers and potential clients. When organising a webinar, make sure that you have enough speakers and seminar ideas, slides and web pages you can refer to, to ensure that the event is valuable and not just an extended video call.
#7 Re-Purposing Blog Posts Into Social Media Posts
Blog posts, particularly long-form articles, can take a lot of time and effort to create. Thankfully, it's easy to make the most of them by converting your blog posts into social media content.
Using the link to the blog post and some of the content, you can quickly create brief social media posts for a range of social media platforms, including Facebook, Twitter and more.
When creating content for social media it doesn't need to have as much of an SEO focus because it's unlikely that content will appear in the search results pages.
#8 Video Courses
Teaching video courses can be useful for generating leads and highlighting your team's expertise. Video courses can be free solutions used to earn contact details and generate leads, or they can be paid for solutions that earn your business money in return for your time and knowledge.
When creating a video course, it's important to split the content up into short chunks so that viewers can go through it and learn in the way that best suits them.
Platforms like Udemy and Teachable can be used to host video courses and provide users with the ability to purchase your course.
#9 Interactive Tools Like Online Calculators
Free online tools, such as calculators, can be useful for users and allow you to generate leads, get access to contact information and more.
When creating an online tool, you need to make sure that it is easy to use and that it provides the information that users want. One useful approach is to provide the basic information, then charge for further assistance to help you generate leads and get more business for your company.
#10 Direct Mail & Catalogues
Direct mail, which includes physical content such as leaflets and catalogues, might seem old-school, but it's a useful approach for some businesses. For example, if you sell physical items such as furniture that are traditionally sold via catalogues, then there could still be individuals who will respond to this content.
Also, if your target market is older, then they might be more responsive to physical leaflets and catalogues rather than digital content. Using direct mail can be a useful approach that gets your brand in front of individuals who might not actively search for you online.
#11 Newsletters & Emails
The virtual version of leaflets and catalogues, newsletters and emails are a great way to connect with digital leads and can help to funnel them through the sales process.
Email newsletters can also be useful for updating clients on the latest developments in your business, saving you time and effort. You need to conform to GDPR when carrying out email marketing and ensure you don't send emails to individuals who haven't given you consent to do so.
Email marketing is a great way of keeping in touch with your clients and building up relationships. By using different strategies, such as following up best sellers and offering time-limited offers, you can maximise the impact that email marketing has on your business.
#12 YouTube Videos
The final item on our content marketing list is YouTube videos which are a crucial part of any video content marketing strategy. YouTube is more than just a video-focused social media platform: it has flourished over the years into a full-blown search engine.
In fact, after Google, YouTube is the second-largest of all search engines in the world, thanks to its usability and wide range of innovative content. If you want to share YouTube videos, then you need to set up an account and learn how to create videos that YouTube viewers will enjoy.
Creating Youtube videos is as easy as you make it. You don't always need expensive equipment to get started and can use your smartphone to film content for YouTube. You also need to keep in mind that the quality of the video might not be great, but it can still result in views from interested individuals.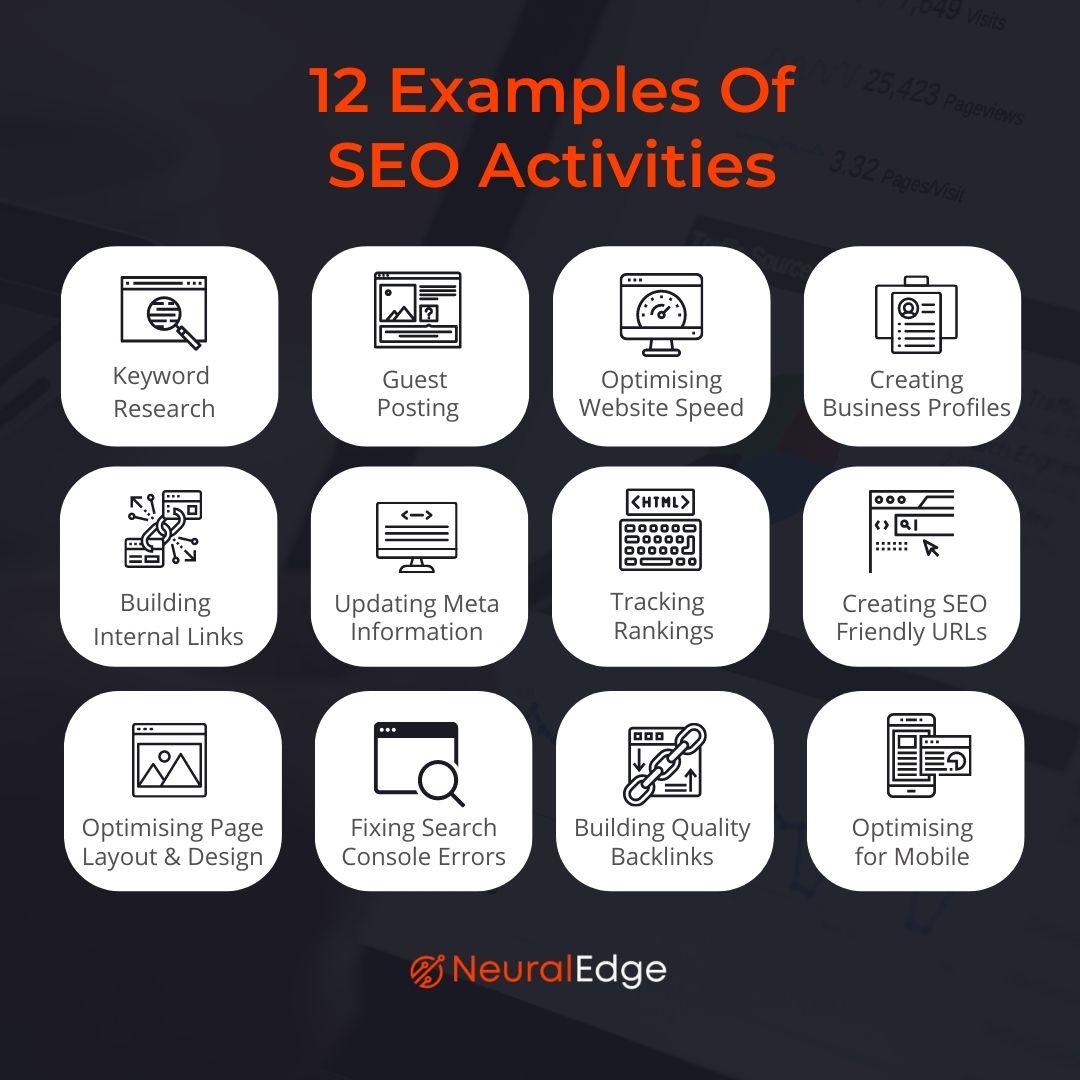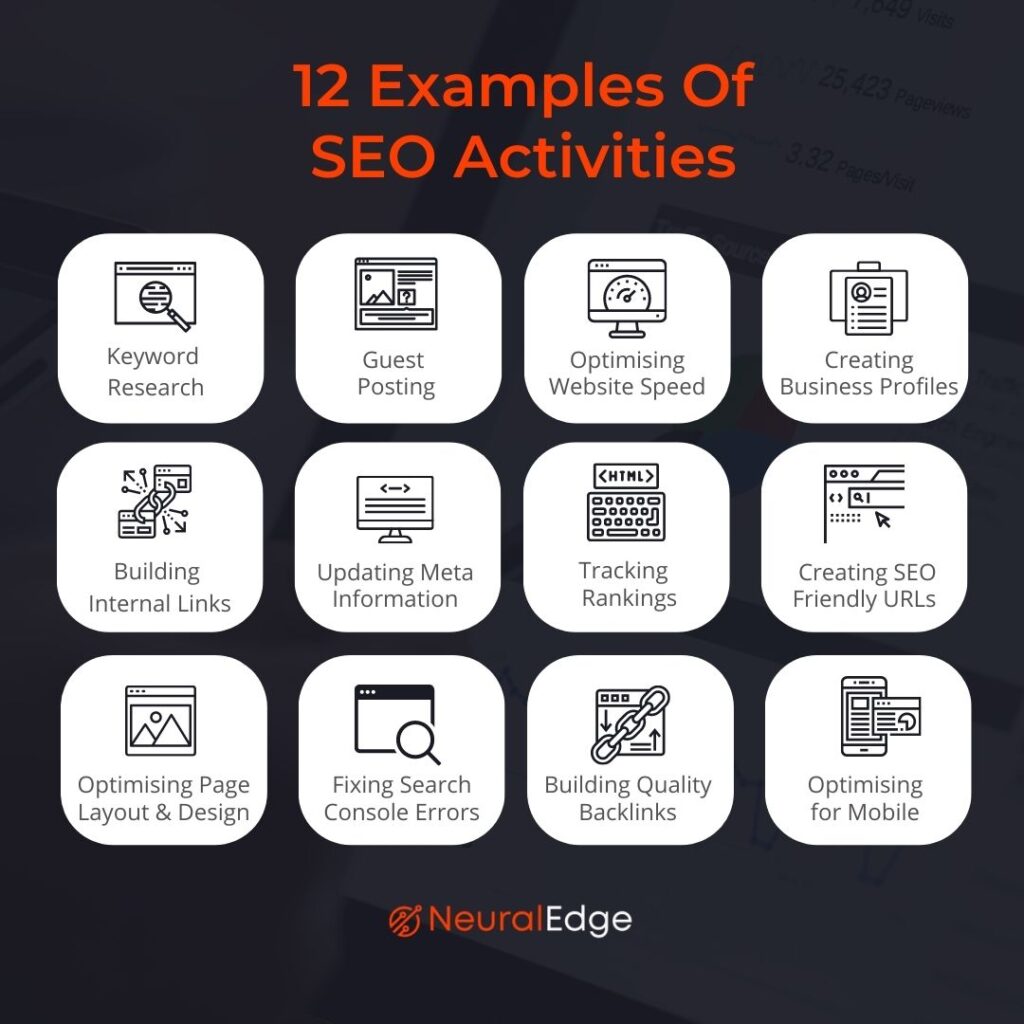 12 Examples Of SEO Activities
Much like content marketing, SEO also involves a wide variety of different tactics and approaches. The two main types of SEO are on-page and off-page SEO.
As the names suggest, on-page SEO refers to techniques used to optimise your website, while off-page SEO is used to promote your site on other platforms.
Here's a list of some of the top SEO activities that many businesses and agencies like us use when it comes to SEO.
#1 Keyword Research
Keyword research is the foundation of any SEO strategy. It involves identifying specific keywords that you need to target to get noticed by your target audience and drive more organic traffic.
As an expert in your niche, you might think you know the keywords that you need to use. However, there are some phrases and keywords that might surprise you, so conducting keyword research is essential to make sure you're targeting keywords that drive actions and have high intent.
#2 Guest Posting On Relevant Websites
As well as sharing regular blog posts on your site, consider guest posting on other relevant sites to help with link building.
When producing guest posts and negotiating guest post-placement on other sites, we always make sure to make sure we get the chance to include a link to your site. With the right guest post website and quality content, you can build a top-quality link that shows search engines that your website is a valuable source of knowledge.
Another way to get links back to your website is to look at content on other sites and identify broken links that could be redirected to your website page. This will help out the site owner and can help get more targeted traffic to your website if the post or website is relevant to your business.
#3 Optimising Website Speed
Website speed is the amount of time that the site takes to load. Optimising its speed will allow you to improve your site's usability and will reduce your bounce rate as people are over waiting for web pages to load!
Also, Google recently added page experience to its ranking factors, and one of the main factors in page experience is website speed, so a fast website is vital to improving your search engine rankings.
The Google Lighthouse and page speed insights tool is a great resource to use when checking your website speed on mobile and desktop and scores your page out of 100 of a number of factors.
#4 Creating Social Media & Google My Business Profiles
While posting on social media platforms could be considered content marketing, generating shares and click-throughs from social media is a key part of SEO.
As well as accounts on relevant social media platforms, you also need to create a Google My Business Profile. These profiles are valuable for local SEO and can help your business to provide contact details and opening information to potential clients.
Social signals from social media platforms can help to tell to Google that a piece of content you or an SEO agency has produced as part of your SEO campaign is popular and deserves a top spot in the SERPs.
#5 Mapping A Website With Internal Linking
While external backlinks are vital for any website, so too are internal backlinks. Internal backlinks, or links on a website to other pages on the same site, can be useful for showing users and search engines the topic of a specific webpage.
Internal linking can also help you to drive traffic to certain pages on your site, which will help you to improve your SEO and get your target audience to notice more of your website's content.
The best way to embark on an internal linking campaign is to map out content and re-order it into content clusters that focus on main keywords. Then map out the sub-content and make sure all of your subpages link back to your main page.
#6 Updating Meta Titles & Descriptions
The meta description and meta title are short pieces of HTML code that act as an initial introduction to the content. Title tags and meta descriptions are found on every web page, so we make sure that yours are updated and customised to your needs.
Google has started deciding on which part of the post or page text they want to show but most of the time Google will still use the meta titles and meta descriptions you have used which is why getting them right is so important.
#7 Tracking Keywords & Rank Changes
SEO is a fast-paced industry, so you need to make sure that you keep an eye on changes in your target keywords and rank changes, both for your site and those of your competitors.
Tracking keywords will enable you to make changes to get more traffic and stay ahead of the curve and your competitors and retain top page rankings. There is a range of tools that help us to do this and they're essential for making sure we're working on the most up-to-date information.
#8 Creating SEO Friendly URL For Web Pages
The URL for your website is essentially the key to the door of your website. It is the link that users will type in or click on to access your site.
While URLs are only short, they can be optimised for SEO and can be changed to include keywords and phrases. As such, you need to make sure that you change the automatically-generated URLs for your website pages to improve your rankings.
Avoid the use of strings on numbers and underscores. Aim for clean and succinct URL's that contain your target keyword where possible.
#9 Optimising Images Sizes & Formats
The size of the images you use on your site, and their formats, can affect your page speed. This, in turn, can reduce your page experience and usability.
As such, you need to make sure that you don't just use the default size and format of images, and instead adjust them to improve your site speed.
The type of file matters too. WERP files are being more commonly used across the website but an optimised JPEG or PNG will work just fine.
#10 Fixing Errors In Google Search Console
Errors in the Google Search Console could result in your website being overlooked by the search engine, so you need to make the most of this valuable tool.
We check Google Search Console regularly and see if there are any issues that need fixing. If you are unsure about what an error means, then send us a message – we'll be more than happy to advise what's wrong with your site and fix it promptly.
#11 Maintaining The Quality Of Your Backlink Profile
External backlinks from reliable and relevant websites are one of the most important SEO focuses. These links indicate to search engines that your website is a trusted source of insight and information.
There are many ways to build quality backlinks for your site, including guest posting, networking within your industry, using online business directories and more. If you get a malicious or low-quality backlink, then you can disavow it using the Google Search Console as it might harm your rankings.
#12 Optimising The User Experience For Mobile
Mobile technology is here to stay, with mobile searches accounting for over 50% of Google searches. As such, you need to make sure that you optimise your website for mobile search as well as desktop.
Also, mobile SEO is closely linked to local SEO, so by optimising your website for mobile search, you can also attract local clients to your business. This is something we talk about a lot with our clients because site speed is so important.
Do You Need To Choose Between SEO vs Content Marketing?
SEO and content marketing can be used in conjunction with one another, and this approach is recommended if you want to make the most of your marketing budget.
That doesn't mean every practice on this list has to be put in place. The best approach is to work with an expert to pick and choose the right content approach and SEO strategies that work for you, enrich your business and help it to grow and prosper.
6 Elements That Make A Great SEO & Content Marketing Strategy
Creating a combined SEO and content marketing strategy might seem daunting, but as the two concepts are closely linked, it's easier than you might think.
When combining SEO and content marketing, you need to make sure that you choose the right factors to focus on, including keywords and on-page SEO. Here are some practical tips to help you create a combined SEO and content marketing strategy to suit your organisation.
#1 Conducting Keyword Research To Identify New Blog Posts Topics
Your keyword research is crucial to inform your content, but it can also be used to find trending blog post topics. That's because you can see the latest keywords that are trending in your niche.
Once you know what topics and keywords are important to your target readership, you can think of innovative titles and put together valuable written resources for your website visitors. Google trends is a great tool that can help you to identify new trends in your field.
#2 Using Long-Tail Keywords for Blog Titles
Blog titles are one of the most important factors for your SEO success, so you need to make sure that they are crafted with care.
Longer blog post titles tend to be more authoritative and informative, so try using long-tailed keywords relevant to your topic. If you use the right keywords in your blog post title then you are more likely to rank well in search engines.
#3 Incorporating SEO Into Copywriting
While the technical aspects of SEO, such as image compression and website speed, don't apply to copywriting, there are many ways that you can incorporate SEO into your writing.
One of the main ways is to use your target keywords naturally throughout your website copy. Other approaches include using internal backlinks and quality external backlinks that are relevant and show your site's affiliation to quality online resources.
#4 Creating Great Content & Include Multiple Formats
The main focus of major search engines, including Google, is user satisfaction. These search engines are dedicated to providing their readers with top-quality content in a variety of formats.
If your website can help with this mission, then it will be rewarded with high rankings on relevant search engine results pages. Creating quality content and publishing it in a range of formats can help with this approach.
This might mean using long-form blog posts as scripts for video content or turning video footage of the creation of your podcast episodes into YouTube content. This approach will save you time and allow you to continue to post top-quality, relevant content across the internet.
#5 Using Storytelling In Your Marketing Copy
Storytelling is a useful approach to take when creating a content marketing strategy, as it can help you to generate leads and retain readers.
Also, you can use your story to improve your brand recognition and engage with a wider audience. Storytelling doesn't mean making up fiction: instead, it means taking readers on a journey and sharing examples of how your business could potential improve real-life scenarios.
#6 Aligning PPC Ads To Your SEO Strategy
PPC adverts are another key part of SEO. PPC, which stands for Pay-Per-Click, is an advertising model that is used by a wide range of platforms, particularly search engines and social media.
These adverts can be aligned with your SEO strategy to ensure that you make the most of your advertising budget and achieve your digital marketing goals. There's more on this in our SEO vs PPC post.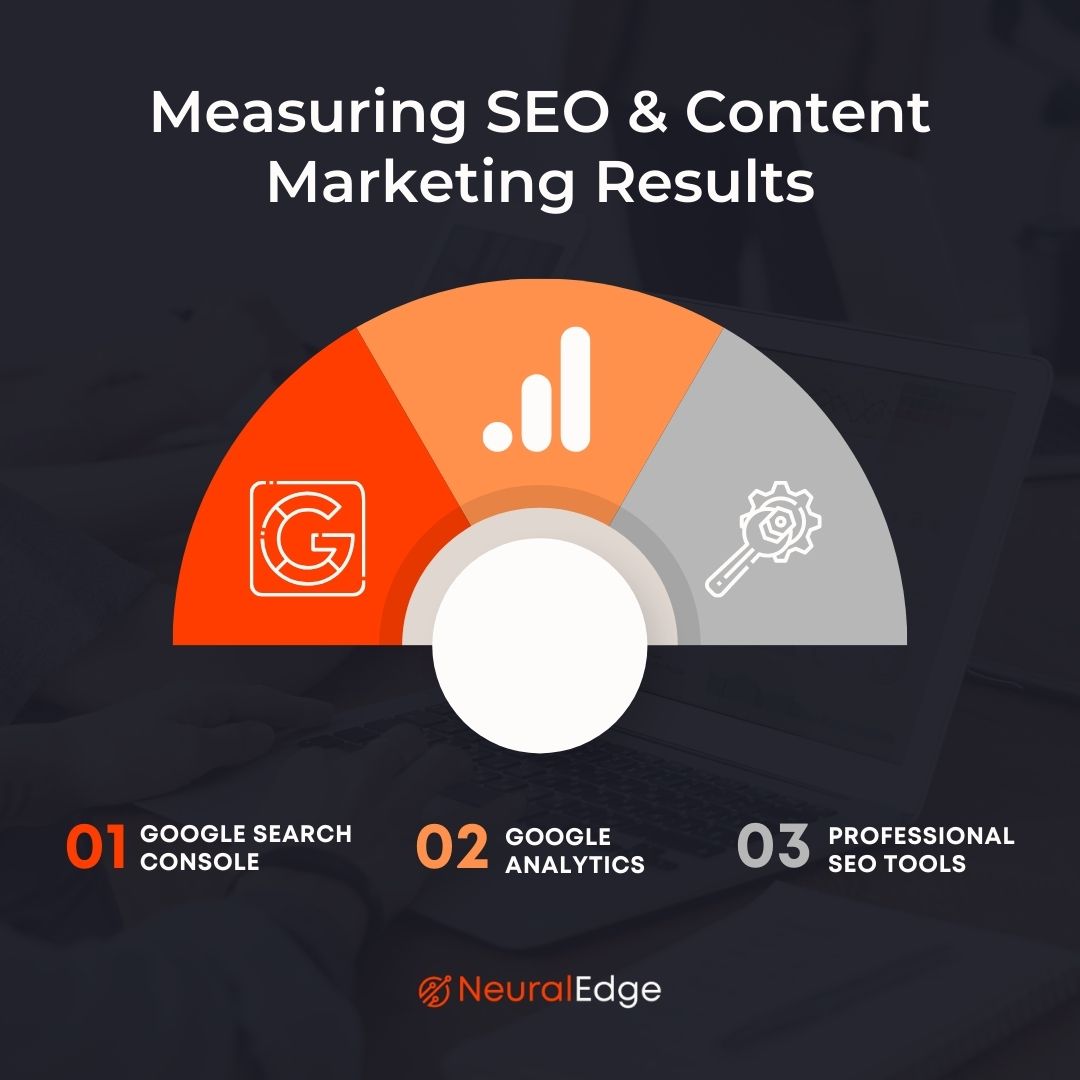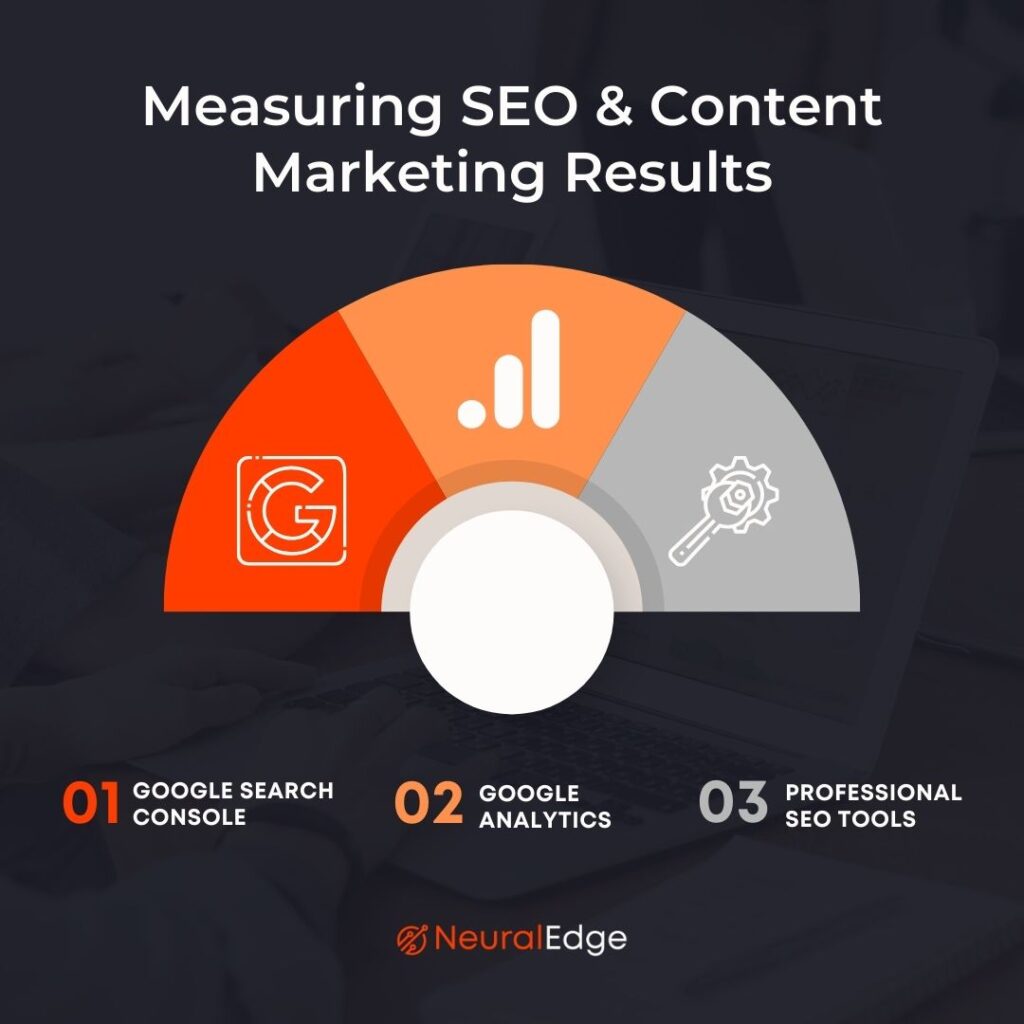 How Do I Measure SEO vs Content Marketing Results?
When conducting SEO and content marketing campaigns, you need to make sure that you measure your results and can see how every action you take affects your site's rankings. Here are some of the main ways we measure the success of your SEO and content marketing strategies.
Google Search Console
Google search console is a valuable service provided by the world's biggest search engine. Previously called Google Webmaster Tools, in 2015, the platform was updated, with additional features to help website owners to review their search engine rankings.
Some of the solutions that Google Search Console offers include search analytics, which allows you to review the main keyword terms and phrases your site is ranking for and the ones you should be targeting. It also allows you to submit content or URLs directly to Google for crawling, which will mean that content helps your site quickly.
Google Analytics
Alongside Google Search Console, the search engine also offers Google Analytics. While the Search Console is designed to push website owners to adapt to Google's requirements, Google Analytics is user-focused.
As such, Google Analytics allows website owners to adapt their website for specific SERPs and to target specific users and their needs.
Google Analytics allows you to track traffic and conversions for your content marketing and SEO strategies, as well as provide details on page load times and user activity.
Professional SEO Tools
While Google's free tools are useful, there are many professional SEO tools that are used by brands and agencies that can also help your site. As we incorporate AI in SEO so many of our tools are built with AI and automation in mind.
Types of SEO tools include keyword tools, automated SEO audits and more. Some of them are free, and others come at a cost, so explore the options available or get professional advice to find the best tools on the market that will benefit you.
Final Thoughts & Advice
As this article highlights, content marketing and SEO are two unique strategies that work well in tandem with one another so while comparing SEO vs content marketing is useful, they shouldn't be seen as competitors.
By combining the two approaches, your business can achieve its digital marketing goals and generate potentially lucrative leads.
To speak to an SEO and content marketing expert about how you can start combining the two approaches, get in touch with us today. You can also explore our range of services from B2B SEO services to our AI-powered SEO services.