Of the 15% of UK businesses that have adopted AI tech, nearly half (172,000 companies) have created a solution internally, and another 40% employ external software developers. These results and more were published in a 2021 Department for Digital, Culture, Media, and Sport (DCMS) report on AI activity in UK businesses over the next twenty years.
The report breaks down AI technologies into five categories, including Machine Learning, Natural Language Processing, Computer Vision and Image Processing, Data Management and Analysis and Hardware and looks at varying uses across industries.
A key finding was that these technologies are rarely used in isolation – instead, businesses are combining different technologies to create solutions that are far more powerful than any individual technology. For example, Computer Vision combined with Natural Language Processing can be used to create a chatbot that can recognise and take action on live images.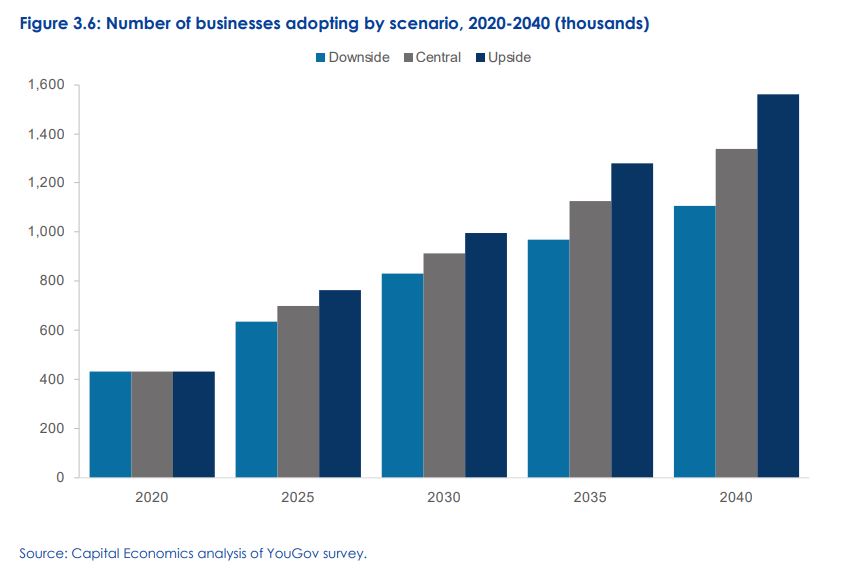 How Is AI Being Used By Businesses?
In terms of the usage of AI, customer service functions are the most popular. However, leveraging AI to help with IT and data security is a growing trend as businesses seek to protect sensitive customer and company information from malicious actors.
A leader in using AI for data collection and analysis, Ben Barnes of marketing firm Neural Edge, commented on the findings, saying;
"We're now seeing more businesses getting involved in AI and taking advantage of the technology's capabilities. With so many UK companies already implementing the use of AI, it will be interesting to see how this changes over the next two decades. We've been using AI tools since 2020 and have seen huge benefits – everything from faster processing of customer data to automated email marketing campaigns."
With that in mind, it's no surprise that the DCMS report found that AI is set to become an increasingly important part of UK businesses over the next two decades. In fact, it estimates that by 2030, the majority of UK businesses will have implemented some form of artificial intelligence technology.
Barriers To Growth In AI Adoption
While the report shows a healthy rate of adoption, there are still many barriers to businesses taking full advantage of AI technology.
Chief among them is the lack of access to data and qualified personnel. For example, 55% of companies not using AI in the EU report that a lack of skills is hindering their adoption compared to 28% of companies who are already using AI technologies.
Both of these issues can be addressed through training initiatives and better collaboration between universities, industry partners, and government bodies. Investment in training to help staff become AI literate is increasing and is expected to grow significantly over the next ten years.
Similarly, the cost of AI solutions and issues around regulation and ethics are also cited as other potential roadblocks. However, with the right incentives and support, these can be overcome.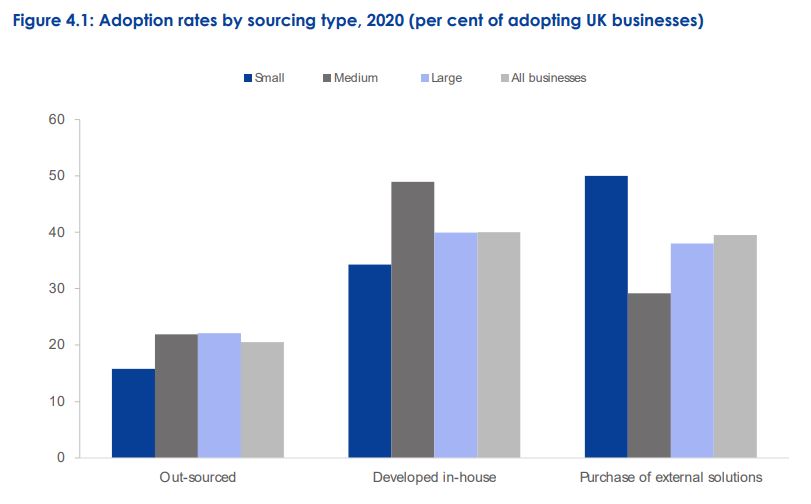 What Does This Mean For UK Businesses?
Overall, the report offers a very positive outlook for AI in UK businesses. With 172,000 companies already developing their own AI solutions and 40% using external software developers, it's clear that AI technology is here to stay and is likely to become an even bigger part of daily life for UK businesses over the next two decades.
However, for businesses to get the most out of AI, it is vital that they have access to the right resources and personnel. With further investment in training programs and better collaboration between universities, industry partners and government bodies, UK businesses can ensure they are well-positioned to take full advantage of AI technology.