We all know how powerful TikTok is as a tool for marketers. If your audience is Gen Z or Millenials, it's a no-brainer that TikTok should be in your mix to reach them. But do you know how to use the platform to inform your SEO strategy?
With more insights than ever, TikTok is the perfect tool for informing your reactive SEO strategy and identifying opportunities for proactive keyword targeting around trends with YoY growth that there will be search demand for on Google. – Ben Barnes, MD, Neural Edge
TikTok's Feb 15th Data Drop
TikTok released a new "Data Drop" on Feb 15th 2023, with over 7,000 new insights from worldwide markets. You can filter down by country, generation, industry and more to uncover core trends and insights into what interests your target audience.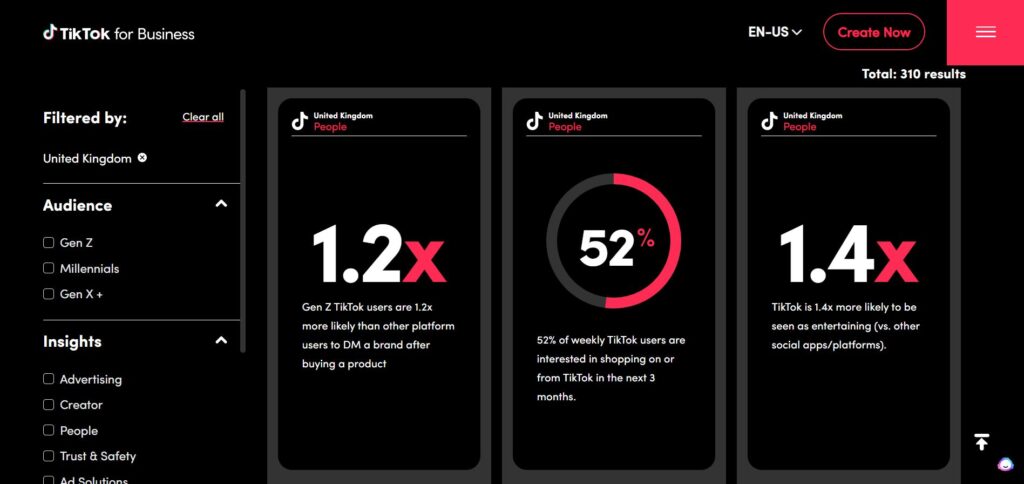 This new data offers a wealth of insight that you can use to inform your SEO strategy. For example, we used TikTok's insights and features to help inform a client's website UX to make the buying process simpler and more engaging. We also used insights to better align their content with what their audience wanted to experience when shopping online.
40% of Millennial TikTok users on fashion journeys prefer brand content that is fun and entertaining. Source: TikTok Marketing Science Global Retail Path to Purchase conducted by Material August 2021 (N=13,206)
Tik Tok Creative Centre
Meanwhile, the Creative Centre is a great tool for brainstorming and finding inspiration for content ideas. You can see what's trending, how different hashtags perform over time, and the current peak viewership, number of views, number of posts, related topics, and breakdown by country.

We've seen plenty of examples of trends on TikTok translating into searches on search engines as people dig deeper into trends. It makes sense that if people want a product, they will search for it, and most people head straight to Google.
After viewing a Dynamic Showcase Ad on TikTok, 74% of Gen Z weekly TikTok users would seek more information on the advertised product. Source: TikTok Marketing Science Global Shopping Ad Products Study 2022 conducted by Material February 2022 (n=259)
TikTok Songs Trends
Unless you're creating content for TikTok, song trends might not seem relevant for informing your SEO strategy. However, if you dig deeper, you can see insights into the audience using that song, like demographics and the topics they are associating the song with.
In the above example, Snoop's Who Am I (What's My Name?) has been trending over the past 7 days and being used on posts around the topic of 'Campus Life'. Knowing this, you can adjust your messaging and create more content on your website around this top to better target your audience if they're Gen Z's currently studying.
Take this one step further and ask Chat GPT for the most common problems students encounter when studying, and you'll have a mini-strategy backed by data with ideas on topics, pain points and solutions that you can create content around and roll out across multiple channels, including TikTok and the blog on your website.
TikTok Is A Powerful Tool For SEO
The three use cases outlined in this post are practical ways to introduce data from TikTok into your SEO strategy and content plan.
As SEOs, we should always look for ways to better understand our target audience and the content they engage with. Not least because of the constant changes in the SERPs like Bing, ChatGPT and Bard. TikTok provides us with a wealth of data, insights and resources that we can use to inform content creation across multiple platforms.
By using TikTok's Data Drop, Creative Centre and song trends to power your SEO, you can create more relevant content that resonates with your audience. You'll also build greater brand awareness and trust with your audience, which ultimately leads to more traffic and more online sales.